Chasing the Dream, Olympic-Style, in Partnership with Shumsky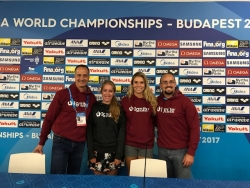 Dayton, OH, July 27, 2017 --(
PR.com
)-- Only a few will win gold in the pool, on the track or on the slopes at the Olympics.
But everyone can dream big dreams. Everyone can be a champion in their homes, their schools, their communities, in the fabric of their lives.
In that spirit - the Olympic spirit - Dayton-based Shumsky and Boost Rewards is leading the way in supporting a one-of-a-kind, forward-looking project that ties together the sports we love to watch, the stories of some of the world's greatest athletes and the events that connect us all.
With it seeming increasingly likely that the United States will play host to an Olympics in either 2024 or 2028 in Los Angeles, the University of Southern California's world-class Annenberg School of Communication and Journalism will be at the center of it all.
Thanks in significant part to a partnership with Shumsky and Boost Rewards, three USC master's-degree journalism students will spend this 2017-18 school year chasing their own Olympic-style dreams: reporting in-person from the world swimming championships July 21-30 in Budapest, Hungary; the world track and field championships Aug. 4-13 in London; and, next February, the 2018 Winter Olympics in PyeongChang, South Korea.
"We believe, first and foremost, in people, and we believe in innovation, so an initiative like this one is a natural," Shumsky chairman, Michael Emoff, said. "We also believe in the power of story-telling to inspire all of us in all of our lives." The company provided branded sweatshirts with their Ignite logo for the team to wear. Ignite is the company's newest employee engagement tool for businesses.
The three grad students: Jolene Latimer, 28, of Edmonton, Canada, who went to USC for her bachelor's degree as well and in recent weeks has been covering LA Dodger games for Associated Press; Olivia Sandusky, 22, of Huntington Beach, Calif., a University of San Diego softball standout; and Sam Dodge, 26, of Ann Arbor, a University of Michigan grad who just weeks ago finished a four-year stint as a U.S. Navy lieutenant.
"I'm so excited for this trip!" Latimer said before leaving Wednesday for Budapest and the swim championships. "It's a unique experience that I feel truly lucky to be involved in, and I know it's the kind of adventure that could help set the course of my future."
USC associate professor Alan Abrahamson will direct the project. A Dayton native, Abrahamson, 58, is an award-winning sportswriter and in-demand television analyst who has reported from nine Summer and Winter Olympics, seven with NBC, earning three Sports Emmy awards for innovation as part of the NBCOlympics.com team. He is the co-author of both Michael Phelps' and Apolo Ohno's books, each a New York Times' best-seller.
Shumsky is an internationally recognized market leader in made-to-order promotional products. For over 60 years, it has delivered award-winning creativity in promotional marketing. Shumsky is a part of Boost Technologies, LLC, and, under chief executive Anita Emoff, was recognized in 2016 by the Women Presidents' Organization as one of its Top 50 Fastest-Growing Women-Led Businesses in the World.
For more information, please visit www.shumsky.com or contact Shumsky at 800-223-2203.
Contact
Shumsky
Melissa Marks
800-223-2203
www.shumsky.com

Contact