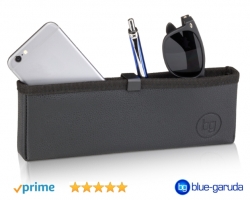 Anaheim, CA, July 28, 2017 --(
PR.com
)-- As standard, all products sold by Blue-Garuda on Amazon come with a 30-day no questions asked money back guarantee, but the company have also given customers the extra incentive of an extended warranty in conjunction with the 30-day money back guarantee. Blue-Garuda's Head of Marketing, Dominic James said, "The reason for the extended warranty is mainly to celebrate the launching of our latest and greatest product and also to look after our customers. We want our customers to feel valued when purchasing from us and we believe by offering them this extra bonus will hopefully fulfill this." For customers to receive their free 1-Year Extended Warranty they just need to follow the instructions on the insert included with their purchase and register their details via http://blue-garuda.com.
He also went on to say, "Customer service is and will always be our top priority and if customers have any issues at all they should not hesitate to contact us right away, we will then do our absolute best to resolve it." Blue-Garuda have stated their Manufacturer Promise on their Amazon listing to comfort customers and put them at ease should they need any assistance, it is important to note that other sellers have not done this so emphatically. They advise that any customers who are not 100% satisfied should contact them immediately from within their Amazon account, this will ensure that all issues are handled promptly and properly.
One important quality Blue-Garuda are eager to get across to customers is their level of customer service. They believe in offering the best possible service to customers and will honor any refunds and exchanges should the need arise. Dominic James had this to say, "One thing that really differentiates us from our competitors is, I believe, our customer service. We aim to respond within the hour to all issues reported to us and will go that extra mile in resolving them. Our team will continue to follow this protocol."
But Blue-Garuda are confident that customers will be extremely happy with the quality and design of their Car Seat Side Pocket. The product itself is made from hard wearing PU material with a fabric trim and comes with a carbon black clip. Together with the product 8 pieces of 3M tape come supplied which allows for the Car Seat Side Pocket to be installed freely within one's vehicle and still hold items securely. It can also be placed in-between seats to act as a gap filler. Blue-Garuda have also spent significant time on getting the packaging right for customers and have customized the packaging to showcase the brand's colors with integrated instructions. The
Blue-Garuda Car Seat Side Pocket
is available to buy now from Amazon and is currently 47% off the RRP.