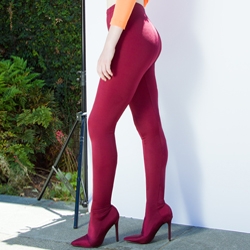 Emeryville, CA, August 03, 2017 --(
PR.com
)-- Everyone's favorite plain basic leggings have been reinvented by Elastic Wonder as a brand-new collection of leg-wear including footsie tights and Pantashoes or Leggingshoes™.
To make them available this Fall they turned to the crowdfunding site Kickstarter.com
There are some Early Bird special rewards that get a backer a pair of quality made in the U.S.A. leggings for $16 + shipping. Their Leggingshoe™ prototypes (a shoe attached to leggings) look amazing and at a retail price of just over $200 they are more affordable than the Balenciaga Pantashoes seen all over the runways and fashion magazines.
Imagine to be able to match your leggings with almost any color, just pick a color from their color card which offers 80 different shades, ranging from soft pastels to neons, gorgeous aquas, deep brick reds to basics like black and navy.
The leggings are available in 6 women's sizes: XS-2XL and they offer custom options as well. The Pantashoes can be ordered in your color and shoe size.
The brand has been busy lately with their production of ready to ship in stock printed leggings selection available on Amazon.com shipping free via Prime. But their 80 solid colors solution collection is a welcome and stylish addition.
Have a look at the
Kickstarter Campaign here
and scoop up some leg wear for yourself on launch day 8/3/2017 and make the world more colorful for all this Fall.