Satellite Internet Helps Transmit Vital Earthquake Warning Data
Satellite Internet helps transmit vital earthquake warning data. John Whitford Communications has contracted with the USGS to upgrade out of date earthquake monitoring sites in California. The sites are used for the earthquake early warning system.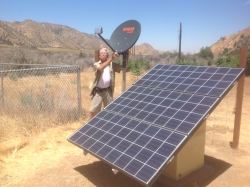 San Luis Obispo, CA, August 09, 2017 --(
PR.com
)-- Thirty seconds of warning before an earthquake can be the difference between life and death.
"If you're in the house, you can grab your kids and get out," said Richard Sessoms, of the U.S. Geological Survey's Earthquake Science Center.
In California, Exede satellite internet is helping make that critical time difference. The USGS is upgrading out-of-date earthquake monitoring sites from analog to digital broadband. For its most remote sites – in which more traditional internet providers don't provide service - it's partnered with Central California-based John Whitford Communications to install Exede.
John Whitford Communications specializes in installing satellite internet and television for area residents and businesses.
"We've been very happy with Exede so far because the signal's been great, the latency has been great and customer service has been very good," Sessoms said.
Exede connects to the USGS's solar powered telemetry equipment, transmitting data collected by the equipment to the USGS's Pasadena processing center.
The USGS first tried using a competing satellite internet provider's services at those sites.
"We found them to be very inconsistent and the latency level was very high," Sessoms said. "We prefer low latency levels because in an earthquake, the sooner you know, the better. The faster we get the information, the sooner we can process it and send the alert. Depending on the location of the earthquake, we could give people a 30- to 45-second head-start before it happens. And that can be vital."
The USGS has about 400 earthquake monitoring sites extending from central California into Arizona. It's expanding coverage to blanket the area, with plans to create a network along the entire west coast in five to 10 years.
Whitford and lead installation technician John Rickwald have so far installed three of the upgraded systems in Santa Barbara and San Luis Obispo counties, and expects to do several more.
"Satellite internet is perfect for sites with no wireless connection," Whitford said. "The biggest challenge for us is they're very remote locations where cell phones don't work, so we've got to go very, very prepared for whatever needs to be done."
The work dovetails with the company's philosophy of community service. In business since 1982, John Whitford Communications staff makes a concerted effort to help the California communities in which it does business. That includes providing free Exede Internet and voice communications to Red Cross Disaster Centers during wildfires and other disasters. Rickwald also gives his time as a board member with the San Luis Obispo County Community Emergency Response Team and works as an emergency response trainer.
The company also gives each customer they serve an earthquake preparedness checklist, a quick reference of items to pack if an earthquake strikes.
"It's our duty to support the community in time of need," he said. "It's also been a bit good for business. People tell us they appreciate us for what we're doing."
Contact
John Whitford Communications
John Whitford
805-461-3030
www.johnwhitford.com

Contact