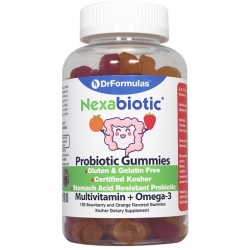 Huntington Beach, CA, August 31, 2017 --(
PR.com
)-- DrFormulas™, a health-driven vitamin and supplement formulation company, has released a new gummy multivitamin probiotic product. The Southern California-based company utilizes nutrition science best practices to create their unique formulations for consumers.
Formulated with children in mind, but suitable for people of all ages, the Nexabiotic® Multivitamin Probiotic Gummies offer a unique blend of probiotics, Omega 3 fatty acids, and multivitamins that can help support healthy digestion and overall health. The product was designed so consumers could easily ingest all of their necessary vitamins and nutrients in one dosage.
Included in the Nexabiotic® Multivitamin Probiotic Gummies are several key ingredients. Probiotics offer small doses of healthful bacteria that are beneficial to digestive health. Omega 3 fatty acids support brain health and neural development. The vitamins include B vitamins, which work to naturally boost energy and metabolism levels, Vitamin C, which provides antioxidants to fight off disease and bolster immune system health, and Vitamin D, to support bone growth and density.
"We wanted to create a product that was not only packed full of the vitamins, probiotics, and omega 3 fatty acids that children need in their daily lives, but something that they could get excited about too. Due to the gummy form, we're expecting kids to look forward to taking their vitamins. That means children are healthy, and parents can rest assured knowing their kids are receiving all their essential nutrients," said Bryan Tran, CEO and co-founder of DrFormulas™.
In addition to being chock full of essential nutrients and vitamins, the Nexabiotic® Multivitamin Probiotic Gummies are gluten-free, kosher, vegan, and contain no preservatives. What's more, the strawberry and orange flavored gummy vitamins don't contain any artificial colors or sweeteners – and they're free of the harmful sugar coating that can be damaging to children's teeth and gums. The product is available for purchase on
the DrFormulas™ website
, as well as on
Amazon
.
About DrFormulas™
DrFormulas™ has been selling and distributing their highly nutritional supplements since 2010. Products are created with the consumer in mind, meaning that every supplement is designed to be as effective as possible. Each product carried by the company is carefully researched by doctors and scientists before ever making it to the production line and eventually into your home, because at DrFormulas™, you come first. Visit
https://drformulas.com/
to learn more.