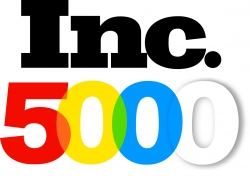 Redmond, WA, August 22, 2017 --(
PR.com
)--
Denali Advanced Integration
, a global leader in providing world-class Enterprise IT solutions and services today announced it has been named to the 2017 Inc. 5000 Fastest-Growing Private Companies list. Inc. 5000 represents the most prestigious ranking of America's fastest-growing companies.
Companies who made the Inc. 5000 list in 2017 demonstrated resounding economic impact and are considered "the most competitive crop in the list's history" by Inc. The average growth rate of honorees is a mind-boggling 481% with an aggregate revenue of $206 billion and 619,500 jobs generated over a three-year period.
"The Inc. 5000 is the most persuasive evidence I know that the American Dream is still alive," says Inc. President and Editor-In-Chief Eric Schurenberg. "The founders and CEOs of the Inc. 5000 tell us they think determination, risk taking, and vision were the keys to their success, and I believe them."
Denali stands out among honorees by receiving this significant distinction for remarkable growth after being in business for 25 years.
"We are proud and truly humbled to be named an Inc. 5000 Fastest-Growing company. It says a lot about our ability to innovate and stay ahead of the curve to support our customer needs and deliver solutions that drive outstanding business outcomes," says Majdi Daher, CEO and Founder of Denali Advanced Integration. "Even after an incredible 25-year journey, Denali continues to evolve and we look forward to continued growth with our customers and partners, in North America and globally."
Denali joins companies such as Microsoft, Dell, Pandora, LinkedIn, Yelp, Zillow, and many other innovators as honorees of the Inc. 5000. The annual Inc. 5000 event honoring all the companies on the list will be held from October 10 through 12, 2017 at the JW Marriott Desert Springs Resort & Spa in Palm Desert, California.
About Inc. Media & Inc. 5000
Founded in 1979, Inc. is the only major brand dedicated exclusively to owners and managers of growing private companies, with the aim to deliver real solutions for today's innovative company builders. The Inc. 5000 is a list of the fastest-growing private companies in the nation. Started in 1982, this prestigious list of the nation's most successful private companies has become the hallmark of entrepreneurial success. Learn more at
www.inc.com
.
About Denali Advanced Integration
Denali delivers Enterprise IT solutions and services, powered by strategic experts and best of breed technologies to help guide our clients through the most complex IT challenges. For more than 25 years, Denali has been one of the most trusted and prominent technology providers in North America, providing a comprehensive set of technology solutions to enable our customers to grow, maintain and expand their business globally. Learn more at
www.Denaliai.com
.