The Embracing Your Journey Expo the Leading Holistic, Wellness and Metaphysical Event in the Valley, Announces a New Location for September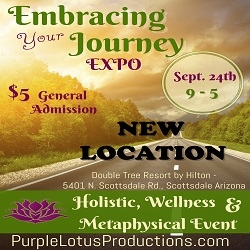 Phoenix, AZ, August 28, 2017 --(
PR.com
)-- The Embracing Your Journey Expo will be debuting a new location for the September 24th expo date. Attendees will find the same diverse selection of over 60 vendors offering a variety of wellness, holistic, metaphysical and green living products and services, mini sessions or special pricing. Come learn about a new healing technique, ways to green your home or have a psychic session. To learn more, see the free lectures and buy your tickets now go to: http://www.purplelotusproductions.com/sept-24th-2017---eyje.html.
What does it hold for you and why should you go? The Embracing Your Journey Expo is about bringing people together on their path of discovery. If you are interested in alternative ideas and a healthier lifestyle then bring family and friends to explore new modalities, new products and meet alternative practitioners altogether in one place on one day. The Embracing Your Journey Expo is a holistic, metaphysical and wellness event that was founded in 2015 and this is the 4th Expo of 2017. "The Expo keeps growing and continues to attract the best artisans, practitioners and teachers out there," says Erin McNamara, a partner at Purple Lotus Productions, the producer of the Expos. McNamara said she expects a sell-out crowd.
Over 60 vendors from Arizona and beyond are offering a variety of green, holistic, wellness and metaphysical products and services. Many are offering mini sessions or special pricing on their products and services so people can try them out at the show. Explorers will find experts in Thermal Imaging Screening, Shamanic Healers, eco-friendly building, nutritionists, yoga teachers, health coaches, energy healers, Law of Attraction, reflexology & Reiki practitioners.
"It's an incredible opportunity to learn about a new healing technique or to have a psychic session with some of the best spiritual people around or simply network with other like-minded individuals," McNamara said. Several types of spiritual counselors will be available from animal communicators to angel card readers to psychic mediums. Topics range from; medical intuition, gong meditation, dancing for joy, law of attraction, digital homepathy, make your own natural care products and more. Vendors will offer everything from feng shui, energy audits, tower gardens, angel readings, vegan products, toe readings, vogel crystal healing, pet readings, crystals, jewelry, nutrition, affirmations and more.
Product offerings also include healthy teas, supplements and vegan snacks, aura photos, essential oils, hemp and CBD products, all natural cosmetics and body care, organic spray tans and more. To bring beauty and renewed energy to their lives and homes unique fashion, jewelry, art, crystals and organite pieces are waiting to be discovered at the show.
Robin Selby, a partner at Purple Lotus Productions, says "The energy in the room is amazing! We have people who come and stay all day long."
All day admission is $5 and includes a selection of 8 free lectures designed to educate and inform. There are raffles winners drawn every hour and a free gift bag with samples and offerings for the first 100 tickets sold. Kids 10 & under are free.
A review from the Jan. 8th Expo says "Just got home after a FABULOUS day at Embrace Your Journey. I will definitely do this again! Thanks Erin!"
The next Embracing Your Journey Expo is Sunday Sept. 24th, 2017 from 9 am to 5 pm at the DoubleTree Resort by Hilton in The Forum 5401 N. Scottsdale Rd., Scottsdale, Arizona, 85250.
The Embracing Your Journey Expos are produced by Purple Lotus Productions, a mother/daughter duo - Erin McNamara and Robin Selby, started in 2009 offering one service it has grown to become a "one stop shop" for all your Mind - Body - Spirit needs. Stop by their booth at the Expo and say hi.
At Purple Lotus their passion is to help, support and encourage as you "Embrace Your Journey" of discovery, learning, growing, healing and change.
Be sure to check out the Who's Who and the Lecture Schedule on the website in advance so you can plan your day.
http://www.purplelotusproductions.com/expo-info.html
For tickets: https://www.eventbrite.com/e/embracing-your-journey-expo-sept-24th-2017-tickets-31389607160
Email: info@purplelotusproductions.com phone 480.296.1928
Follow us on Facebook to learn about all of our events: https://www.facebook.com/purplelotusproductions/
Contact
Purple Lotus Productions
Erin McNamara
480.296.1928
www.purplelotusproductions.com

Contact