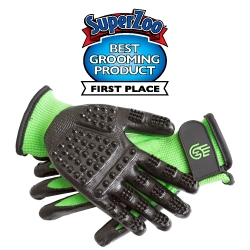 Austin, TX, August 29, 2017 --(
PR.com
)-- The judges at the 2017 SuperZoo national pet industry trade show awarded HandsOn® Gloves first-place honors in the Grooming category of the New Product Showcase Awards.
Widely acclaimed by professional groomers and pet owners alike, the unique gloves sealed their "best-of-breed" status in the voting by pet industry retailers in attendance at the July event at the Mandalay Bay Convention Center in Las Vegas.
Jay Michaelson, inventor of HandsOn® Gloves and CEO of the company that makes them, was thrilled with the first-place finish even as friends, associates and co-workers around him assured him he shouldn't be surprised.
"I know HandsOn® Gloves work," said Michaelson. "Seriously, they're like nothing else in the whole field of grooming, bathing and shedding products - and I know our customers swear by them. But being singled out here at SuperZoo for first place by retailers is the icing on the cake for me. These are people who are really objective. For them it's not just about pets, it's about their own business success."
Michaelson created HandsOn® Gloves for his horses, and shared them with his professional equestrian colleagues. The results were unanimous: horses truly enjoyed the brushing and gentle scratching on their thick coats. He quickly realized other animals could benefit from these grooming gloves, too. For dogs and cats, bunnies and ferrets, and even (believe it or not) elephants.
And what's even more rewarding is seeing how your animals actually gravitate to you, wanting more grooming, bonding and petting time. The gloves feature grooved palms and fingers and patterns of upright nodules to free up shedding hair almost unbelievably quickly and efficiently, and assure no tangles or clumps are left behind to unwind. Used wet or dry, the gloves are easy to clean, they stay on your hands, and they're flexible enough to handle shampoo bottles and other items without taking them off.
Learn more about how and how well they work, or buy a pair to discover the joy for yourself - with a quick visit to
handsongloves.com
. You can also email Jay Michaelson and the HandsOn Gloves team at info@handsongloves.com with more detailed questions, or for information about authorized HandsOn® Gloves retailers near you.
SuperZoo, produced and managed by the World Pet Association, is designed to enrich the pet industry by providing networking within the community of pet-related professionals and by giving them access to new trends, products and cutting-edge educational programs that provide innovative business and marketing concepts. This year, 1086 companies exhibited their newest and top-selling products to a record number of attendees at the expo known as the National Show for Pet Retailers. For more information on the show visit www.superzoo.org.