Katherine Leigh Myers Recognized as a Prominent Business Leader by Strathmore's Who's Who Worldwide Publication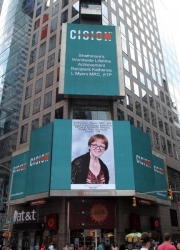 Fairborn, OH, September 08, 2017 --(
PR.com
)-- Katherine Leigh Myers of Fairborn, Ohio has been recognized as a Prominent Business Leader for 2017 by Strathmore's Who's Who Worldwide Edition for her outstanding achievements and high level of success for over 20 years in the field of education.
About Katherine Leigh Myers
Ms. Myers is the Assistive Technology Specialist for the Office of Disability Services at Wright State University in Dayton, Ohio. Wright State University is one of the top 5 universities providing services to students with physical disabilities in the country and the only university with an on-campus dog park for service dogs. Ms. Myers is responsible for integrating technology into the lives of students and families affected by disabilities. She specializes in career counseling, student affairs and leadership development.
After obtaining a B.S. from Wright State University in 1994, Ms. Myers returned to Wright State University in 2005 to obtain a Master's in Rehabilitation Counseling, Severe Disabilities. She holds a Professional Certification in Assistive Technology through the Rehabilitation Engineering and Assistive Technology Society of North America. Prior to her current position, she served as the Adaptive Technology Specialist, Assistant Director, and Associate Director of the Office of Disability Services at Wright State University. She is affiliated with the Association of Higher Education and Disabilities, Southwest Ohio Consortium for Higher Education, and the Rehabilitation Engineering and Assistive Technology Society of North America. She was recently recognized on the Reuters Billboard in Times Square in New York City.
Ms. Myers was married for 42 years before her husband passed away. Together they raised their son Rob who has major disabilities. She states, "My son has always been one of my main sources of inspiration." In her spare time she enjoys volunteering with her church choir and participating in church activities, including volunteering with the Celebrate Recovery Program at Patterson Park Church.
For further information, contact
www.wright.edu
.
About Strathmore's Who's Who Worldwide
Strathmore's Who's Who Worldwide is an international advertising, networking and publishing company based in Farmingdale, New York. They are proud to be able to satisfy their clients and continue to have repeat clientele due to their longevity and pride in their products and services. The Owners strive to connect business professionals to enhance their contact base and networking capabilities so they can get the acknowledgment and publicity within their industries and beyond. The Strathmore family has been providing these valuable services for over two decades. They target executives and professionals in all industries to be featured in their publication and on-line directory. Industries include business, law, education, healthcare and medicine, fine arts, IT, government, science, real estate, entertainment and many more accomplished fields. Professional profiles are listed in an annual hardcover journal and in a detailed, searchable database on the website www.strww.com.
Contact
Strathmore Worldwide
Susan Perrault
516-677-9696
www.strathmoreworldwide.com
Syndi Reibman

Contact