Avera Digital Launches Its 2017 4K UHD TV Series
Avera Digital launched its new 2017 Equinox 4K UHD TV series. Also known as the EQX20 series, the new series offers high 4K resolution performance in a slim, modern design. Several innovative technologies have come together to boost performance and provide the best entertainment experience for consumers.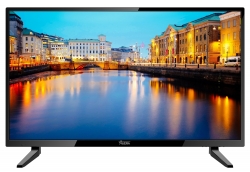 Pomona, CA, September 06, 2017 --(
PR.com
)-- Avera Digital has launched its 2017 Equinox 4K UHD TV series. The 2017 series follows the successful launch of the brand's first Equinox 4K UHD TV series last year in time for the holiday season.
Several innovative technologies have come together in the 2017 Equinox series, also known as the EQX20 series, to maximize consumers' entertainment experiences.
"Customers are looking for TVs that offer both a great picture and a great value. We have combined 4K resolution and Dolby Audio, as well as our own technologies, in our new Equinox series to offer a better 4K TV watching experience while still being affordable," said Hugh Yu, Vice President of Avera Digital.
To build on the success of the 2016 Equinox series, the EQX20 series includes a new and improved multi-core processor to support 4K content with exceptional color, clarity and contrast.
The EQX20 series uses the unique Automatic Pixel Adjustment technology from Avera's partner company, China Electronics Corporation (CEC). With this technology, EQX20 series displays can turn individual pixels completely off or on to reproduce images with perfect blacks, stunning brightness, immersive details and vibrant colors. The intense detail of 4K Ultra HD and the ability to render over one billion rich colors allows for more shades of color than conventional TVs.
For improving HD content, the EQX20 series is equipped with Avera's 4K PRO upscaling engine, which brings HD pictures to life by upscaling every pixel to near 4K quality – delivering clearer, smoother and more natural scenes.
The series includes CEC's UAccelera++ technology, which aims to diminish moving blur typically seen in lower resolution content. The result is a seamless, lifelike moving picture, allowing fast-moving action sequences to be seen with precise motion clarity.
Dolby Audio is included in the series to offer the immersive high definition sound needed to complete the 4K viewing experience. It allows viewers to hear surround sound like never before with immersive, object-based audio that creates a true theater-like experience.
Four HDMI 2.0 with MHL, HDCP and ARC feature ports offer the extensive flexibility and functionality needed to enjoy 4K content at home.
CEC's expertise in advanced LCD display technologies led to outstanding features that enable Avera TVs to deliver supreme viewing experiences to consumers.
The EQX20 series is available in 40", 49", 50", 55" and 65" sizes. Most sizes are available for purchase online this year from Walmart, Amazon, Newegg and Fry's Electronics.
Contact
Anissa Melendez
(626) 383-2108
averadigital.com

Contact
Multimedia
Learn more about the specifications and features of the 2017 Equinox series.