Shine Window Care and Holiday Lighting Lives the Company's Core Values; Assists Those Affected from Hurricane Harvey
Shine window care and holiday lighting is a nationwide franchise organization that showed their true colors when Hurricane Harvey hit the Houston area.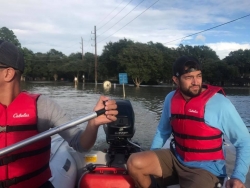 Austin, TX, September 06, 2017 --(
PR.com
)-- Living your company's core values: Shine Window Care and Holiday Lighting
The Shine Window Care and Holiday Lighting website
lists "Be a Light" as the first of its 4 core values:
Chris Fisher the founder and CEO of Shine explained that: "We are a business that wants to show love and kindness to all people. Our organization was built using the Bible Verse Matthew 5:16: It states: In the same way, let your light shine before others, that they may see your good deeds and glorify your Father in heaven.
"We use 'Be a Light' as core value because we want franchisees and all our employees to understand exactly what we are looking for. We have been successful because when we see being a light as our job we find that we excel at retaining both customers and employees."
shine-windowcleaning.com
The
Shine Franchise Group
is headquartered in Austin Texas. When Chris Fisher and his director of operations, Lee DeJonge heard what was happening with Hurricane Harvey in Houston they sent a company correspondence that told everyone in the organization they were getting a boat and going to serve those in need.
Travis Hansen, owner of the
Shine Location in West Houston
explained that he was not surprised a bit to find out Chris and Lee were on their way down. "Shine is only successful because we all have big hearts and genuinely care for others, it feels good to be part of an organization that genuinely cares."
Travis has been very active in his community dealing with the aftermath of hurricane Harvey. He explains "The first thing I did was send an email to all my customers. I simply said today I am not a local business I am your neighbor and I have trucks and strong employees to help in any way possible."
Travis and his family did not stop there. They designed a shirt, built a website and started collecting money to help with relief efforts. If you'd like to order a shirt and be part of the relief effort in Houston please click
here
.
Lee Dejonge explains that "The Shine franchise model has been so successful because we have been able to attract owners like Travis who treat people and employees well and serve their communities with love."
Contact
Shine Window Care and Holiday
Matthew J DeYoung
616-334-1577
shine-windowcleaning.com

Contact