Coin Clarity is Turning Cryptocurrency Novices Into Experts at a Rapid Pace
Coin Clarity is bringing clarity to an industry that desperately needs it. Coinclarity.com is a cryptocurrency-related resource collection that aims to provide its visitors with a basic background necessary to get started in anything blockchain-related.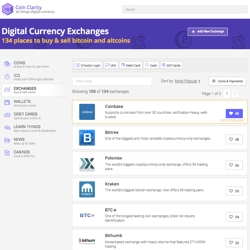 Lone Tree, CO, September 11, 2017 --(
PR.com
)-- Founded in 2016, Coin Clarity (
https://coinclarity.com
) is a website that hopes to collect and present all the information necessary for the average person to get started with cryptocurrencies and blockchain technology. As the price of bitcoin has risen some 400% in the last 6 months, and with hundreds of millions of dollars being poured into blockchain startup companies, 2017 is decidedly the "year of cryptocurrency," making this an opportune time to educate the public on blockchain awareness.
With the market capitalization of bitcoin recently surpassing that of PayPal, the world's second biggest money remittance service, comes the realization that cryptocurrency is finally gaining serious mainstream traction, no longer to be relegated to the fringes of society. The desire for knowledge and understanding of blockchain technology is also at all-time highs as non-investor curiosity is piqued.
Website founder Nick Mitchell relates through his own aggravating experience of attempting to buy bitcoin for the first time in 2014. "Trying to navigate the technologically overwhelming experience of simply buying BTC stuck with me, and I have brainstormed for years how to make the vast amount of information available more accessible," he says. "Coin Clarity is my attempt to bring that vision to the community."
Mitchell, a web developer by trade, recognizes that the idea of the blockchain may seem overwhelming to most cryptocurrency users at first, as the essence of digital cryptography remains a highly complicated subject and relatively misunderstood.
Coin Clarity hopes to bring simplification to the blockchain space by delivering an original, high-level take on complex concepts, stripping them of their technical jargon and presenting them in a manner that is easy for all to understand.
With introductory guides on Bitcoin, Ethereum, wallets and Initial Coin Offerings (ICOs), an advanced search engine to help users navigate its flood of content, as well as a product submission page, Coin Clarity is striving to be an all-in-one resource center where novice users come to learn and advanced users come to contribute information about everything blockchain-related. Coin Clarity also provides regular news covering the latest developments in bitcoin, other cryptocurrencies and blockchain-based startup projects that managed to gain the media's attention over the last week.
In addition to the features listed above, Coin Clarity has tools with extensive listing of cryptocurrencies, wallets, exchanges, and others with a filters system that allows users to narrow down products by coin accepted, banking options, and security features as well as an assortment of other variables. Coin Clarity also compiled a list of the largest cryptocurrency debit card services for those looking to hasten their ability to spend coins without going through the hassle of exchanging it for fiat currency.
About Coin Clarity
CoinClarity.com is a cryptocurrency-related resource collection that aims to provide its visitors with a basic background necessary to get started in anything blockchain-related. It is based in the United States and features entirely original content. The website is committed to making the concept of bitcoin and the blockchain more easily understandable, lessening the technical divide for inexperienced users.
Contact
Coin Clarity
Nick Mitchell
408-963-9525
https://coinclarity.com

Contact