Australian Made Pick Up Camper Company Trayon Campers Go International
Purpose built lightweight slide on pickup campers for expeditions, overland adventure or weekend trips. A Trayon Camper is a rugged, sealed, waterproof box which slides on to the back of a pickup truck with a flat bed tray. It has everything one needs for extended trips into the wilderness. A family owned Australian company with past customers who are global explorers. Travelling to Africa, Canada, and the Arctic Circle. Find out more.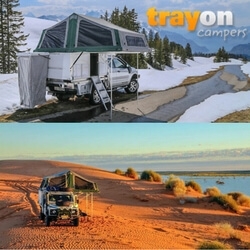 Sunshine Coast, Australia, September 10, 2017 --(
PR.com
)-- Exploring distant lands, adventuring into the unknown, seems to be a primal instinct for many. At some stage in life, many people develop a yearning to break the chains and explore this beautiful planet. Having the flexibility to travel to any location at any time, either as a nomad or for weekend trips without the hassle of accomodation saves time and money. A
Trayon Pickup Camper
elegantly solves this problem.
Trayon Campers is family owned business in Queensland, Australia with 24 years experience building and testing a robust camper platform built for harsh environments. Their customers are explorers, not just in the land down under, but all over the world. Their camper has been tested in the harsh desert conditions of Africa and Australia, the cold slopes of Switzerland, and the icy forests of the Arctic Circle. They have agents all over the world.
So what is a Trayon Camper?
A Trayon Camper is a categorized as a "
slide on camper
," which is known as a camper that slides on the back of a pickup / ute that has a flat tray or platform it can be mounted to. It contains all the necessities, including electricity (solar power with an inverter and batteries), LED lighting a double bed, water tank, kitchennet, dining area, gas cooktop, annex, shower, portable toilet and plenty of storage. All in a lightweight concealed box which sits on the back of a pickup, weighing approximatly 400 kg (881.85 lb) dry weight. The camper opens up like an oyster, with a large canvas roof and fly, providing plenty of space and has optional heating for cool climates.
Why choose a Trayon Camper?
In Australia, most the land is so remote that carrying water and fuel is essential. In these area's, they are far off the beaten track and camper trailers and caravans can can quickly become a liability. An unpowered set of wheels, axles and suspension that can break. In fact many tracks are now being closed off to trailers. This is often the case in remote area's all over the world. That's why armed forces purchase 6x6 variants of their small 4WD, so they can carry and not tow.
Trayon Campers are purpose built to reduce the strain on vehicles in remote areas. They are lightweight and strong, built from a non-welded aluminium frame and can slide on and off a pick up truck with sturdy legs to support it. This means camp can be setup and the vehicle driven away, to be used to go collect firewood. The camper can be set up and packed up in less than 5 minutes, it is secure and seals for transport as tight as a glove, so no dust or water gets in.
Is a flat tray necessary?
In Australia, Flat Trays fitted to the rear of a pick up or utility vehicle (ute) is a very popular choice. Most people buy pick ups and replace the style side tub with a tray. Why? Well, a flat tray has far more usable space compared to a tub. With a tub, navigating the wheel arches can be problematic, and often the tub is weakly mounted to the chassis. So, Trays are particularly popular with farmers and miners, because they can literally fit more in symmetrically, and are bolted to the chassis. Just like a flat bed truck, or any box frame truck someone would use to move house.
There is another category of tray top campers, called "slide in campers," these are designed for tubs. However, due to the awkward non rectangular foundation around the wheel arches, compromises need to be made in number of features the camper will have.
So yes, to get a Trayon Camper, a "Tray" is needed before it can go "on." Aluminium trays / flat beds can be found as an aftermarket or custom built accessory for off road pickup trucks. Other than that, Trayon Campers fit most American and European pickups with a tray, as they can be made in a width to suit.
Trayon campers are secure, robust, lightweight and comfortable, ideal for an expedition or overlanding vehicle. Check out Trayon Campers website, It is a proven platform for global and domestic expeditions, or just simple weekend get aways.
Contact
Trayon Campers
Vernon Van Der Walt
+617 5476 5355
trayon.com

Contact