Canadian Entrepreneur and Single Mom Wins Gold Magellan Award for Travel
Canadian Business owner has won an internationally recognized Prestigious award for Travel innovation for her Wine Club Travel project. Aimed at bringing more tourism into the wine regions of Canada and offering overseas travel and events to wine clubs her project will create jobs and more business for all concerned.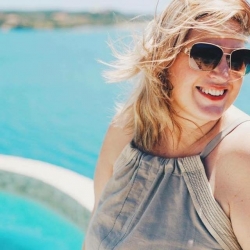 Fonthill, Canada, September 13, 2017 --(
PR.com
)-- Travel writer and Entrepreneur Lorraine Simpson, Owner of Concierge Travel Group wins Gold at the Magellan Awards.
Travel Weekly announced the winners of the 2017 Magellan Awards. With entries from across the U.S. and around the world, the Magellan Award winners represent the best in the travel industry and salute the outstanding travel professionals behind it all.
Lorraine won for her outstanding commitment to tourism and innovation for her Wine Club project. Lorraine has been working with wineries and wine clubs across Canada to help bring new business into their wineries as well as arrange travel and events for their wine club members. This is a huge benefit to the wineries on several levels and is proving a great hit so far. Her project will see many wineries from Ontario being twinned with wineries in other provinces to increase visitors and therefore increase sales for them. The second stage of the project is to organize overseas trips through her extensive contacts in the travel industry and create customized travel for Food and Wine lovers from each wine club. Lorraine will be co-hosting two specialty River Cruises with a food and wine theme next year...one with a famous TV chef and one with two fabulous Canadian Wineries.
"Our next trip will be in October with the members of Quails Gate Wine Club in BC. We will travel to Rome and Tuscany in Italy for a week to "Sip, Dine and...Dash around Italy."
Lorraine started her business working from home as a single, widowed mother of four and hardly enough money to live on.
"I love hearing that my personal story of survival and commitment inspires other women to chase their goals and step out of their comfort zone and dream big!"
As a member of Travel Leaders Group Lorraine works closely with their preferred suppliers especially AMA waterways and is planning special events at wineries over the next few months sponsored by them.
"AMA Waterways has been a great supporter of mine and I am very grateful and looking forward to our Canadian Wine Hosted wine theme cruises in Europe!
The Magellan Awards are judged and overseen by a one-of-a-kind panel of top travel professionals representing the best names and most accomplished leaders from the industry. In determining winners, entries do not compete with one another, instead they are judged against a standard of excellence based on the long experience of Travel Weekly.
"This year's winners represent the most talented and creative people in not just the travel industry but of any industry," said Arnie Weissmann, editor in chief of Travel Weekly. "They continue to raise the bar, to inspire travel and enhance the travel experience. Their work leaves a lasting impression on our expert judges and readers."
Lorraine said, "Being selected as a Magellan Gold Award Winner was a huge dream of mine and I am so delighted and as many single Moms know juggling is part of our lives and I am so grateful to be recognized for this!"
Lorraine is planning to film some of her travel experiences and use them for a web series on Luxury Travel for the Food and Wine Lover aptly named "Sip, Dine and dash...around the world."
Winning this award really is a tremendous achievement that proves Lorraine Simpson of Concierge Travel Group represents the highest standards of excellence within the travel industry.
www.wineclubconcierge.com
.
www.conciergetravelgroup.ca
Call
289-273-8095
. ldsimpson@me.com
Contact
Concierge Travel Group
Lorraine Simpson
289-273-8095
www.conciergetravelgroup.ca

Contact