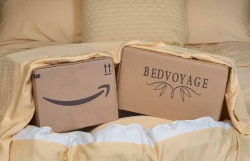 Woodinville, WA, September 14, 2017 --(
PR.com
)-- BedVoyage previously sold their bamboo bedding line on Amazon, but then hopped off to allow their multiple accounts the opportunity to sell their eco-luxury line of bedding and bath linens. But, 3 years later, and after 5 months of preparation; BedVoyage is delighted to announce they've hopped back in bed with Amazon. A Travel Set was created as their first exclusive item to launch on the Amazon marketplace, the set consists of a fabulously soft knitted bamboo blanket and zippered bamboo travel pillowcase. Sharon Stuart, the CEO says, "We're really excited to start our marketplace again, and with a unique product that won't compete with our authorized retailers. We know that Amazon is the place to 'be seen' and we are happy to be back in bed with them!"
There are 4 colors to choose from, and the blanket and pillowcase can be used in a variety of ways: as a typical travel set to take on flights, car trips, overnight stays, and even camping and hiking. But it also doubles as a great sofa blanket and pillow for movie watching, as well as fits the needs of a toddler's first blanket and pillow. The size is similar to an oversized beach towel, and tucks easily into most carry-on bags. It can also be used outdoors as a wrap if you're sipping morning coffee on the patio, or want to offer them to guests dining around your patio table if the evening becomes cool.
At $49.99 the set is a great price point as a housewarming, wedding, birthday, baby shower or traveler's gift. The pillow insert is not included as this allows the option to purchase the insert of choice, whether it be down, foam, poly-fil, or other. The pillowcase has an invisible zipper which allows the pillow insert to stay clean, and here's a tip BedVoyage gives: if you're traveling and the pillowcase becomes soiled, simply turn it inside out and use the fresh side until you can get it laundered. Simple and genius advice! Also, the blanket folds up small enough to fit inside the pillowcase, for ease of storage while on a trip.
Rayon from Bamboo is a perfect fiber for traveling due to its natural resistance to bacteria and odors, as well; it's a thermal regulating fiber and adjusts to the user's temperature needs, so you won't be too hot, or too cold when snuggled in.
As this product is being housed and fulfilled by Amazon, there's free speedy-shipping for everyone, and is also available at free 2-day shipping for Prime customers.
One of the perks of ordering the set from Amazon is that the blanket alone retails on BedVoyage's website for $49.99 + shipping, but Amazon customers receive the $12.99 pillowcase for free, and pay no shipping.
Watch for more BedVoyage exclusive products to come, as they expect to launch bedding sets next.