Epic "Breaking Bad" Series Used as Sobriety Tool in Unique Self-Help Book
Indie author to self-publish eBook entitled "The (Breaking) Bad Path to Enlightenment & Sobriety," a sequel to his first self-help book. It's a compilation of the author's blog posts. Every episode of series is summarized and analyzed to illustrate the dangers of an overly powerful ego.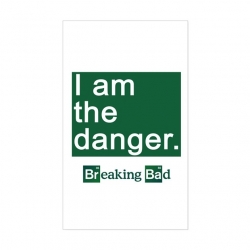 Red Wing, MN, September 16, 2017 --(
PR.com
)-- Author Lee A. Eide will be releasing "The (Breaking) Bad Path to Enlightenment and Sobriety", a sequel to his first self-help book, on November 24, 2017, via Smashwords, Inc. Pre-orders for the eBook, which will sell for $1.99, can be made on Apple iBooks, B & N, Gardners, Kobo, OverDrive, and Scribd.
Author Eide says, "The Bad Path to Enlightenment and Sobriety" is a compilation of all the Breaking Bad-related blog posts published on my 'Join the Spiritual Evolution: Live Beyond Your Ego' blog on WordPress. Breaking Bad is my favorite TV series ever with Archer being an incredibly close second.
"I streamed every 'Bad' episode of the series on my old iPhone over the course of about 2 1/2 months. In each post, after recapping the plot, I show how Walter White's actions illustrate the theme and principles in my first self-help book...About two years after publishing my last 'bad' post, it occurred to me that I probably had a book's worth of material. So I compiled all the posts and sure enough, there were around 345 pages."
From the author: "In a nutshell, the book is a how-to guide to stay or get sober by learning from Walter White's mistakes throughout the epic 'Breaking Bad' series. A Shakespearean tragedy framed in modern terms is used to promote sobriety and a clean lifestyle. Entertainment, inspiration and enlightenment all in one book."
Praise for the author's other books:
"Overcome Any Personal Obstacle, Including Alcoholism, by Understanding Your Ego" -Lulu.com, Aug. 2012
"...is a wise book that taps into philosophies about the seven sins and the ego in relation to beating alcoholism and becoming happier. It is a unique approach to healing an addiction or any ego-related issue by looking within and determining how your ego is getting in the way of living your life serenely.
"Eide shares his profound experiences as a recovered alcoholic and his knowledge gained over the years. Enough experience turns a person into an expert, and Eide is no exception. He discovered what allowed him to understand his illness and conquer alcoholism…and it wasn't just the 12 steps of 'Alcoholics Anonymous'. It involved understanding how the ego plays a part in keeping an alcoholic in the throes of addiction.
"In this book, Eide covers the topic of the ego, shares his personal experiences and expertise of recovering from alcohol addiction, and shows how faith and religion come into play in understanding how to find serenity.
"I recommend this book to anyone who is unhappy with their current state of being, because it will help free you from the hold of your ego. And if you suffer from alcoholism, this book may be the key that unlocks the door to your new life of sobriety." -Christine Rice, Freelance Writer
"Dead Man's Plan" -- Available on Amazon
"A great, exciting story with well developed characters." Three-star rating ("recommended reading"). -Mary E. Dana of SharpWriter magazine
".... one you won't want to pass up." -- David LaGraff, ScribesWorld magazine
Contact
Lee Eide's Books, Inc.
Lee A. Eide
651-764-2223
leeeideblog.wordpress.com
@drofbadology on Twitter

Contact