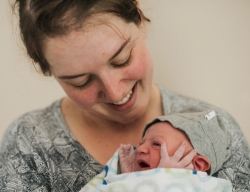 Sacramento, CA, September 18, 2017 --(
PR.com
)-- Welcome Home Midwifery Services, a local nonprofit offering maternity care for low-income families, is pleased to welcome Madeleine Shernock, LM CPM to their midwifery staff as Clinical Director.
Shernock is a Licensed Midwife and Certified Professional Midwife who will supervise a team of clinicians providing maternity care services to families in Sacramento and San Joaquin Counties. She received her degree in midwifery from National College of Midwifery this August after training in midwifery practices in Sacramento, Modesto, and the state of Utah.
"I am so glad to be able to provide this service to my community, and look forward to increasing access to timely prenatal care, out-of-hospital birth, and newborn care for low-income and marginalized families."
Shernock's passion for reducing barriers to maternity care services goes back to 2010, when she formed Welcome Home Doula Services, a 501(c)(3) charity that trains community doulas to support childbearing families. The organization has served hundreds of families and trained over 20 birth doulas. "With WHMS, I hope to continue to work toward ensuring everyone in our region has access to safe, healthy birth outcomes by way of accessible and nonjudgmental perinatal services."
Licensed Midwives offer routine prenatal care, labor and birth care, postpartum care, and newborn care to 6 weeks of age for healthy, low-risk families. Although midwives attend most of the births worldwide, fewer than 10% of California births are attended by midwives. Shernock is one of only 11 Licensed Midwives living and working in Sacramento County.