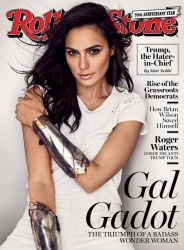 Los Angeles, CA, September 19, 2017 --(
PR.com
)-- Natalie Yaru is riding high on her clothing brand's recent feature in Rolling Stone Magazine. The LA-based fashion designer's leather pants were worn by actor Gal Gadot a.k.a. Wonder Woman on the cover of Rolling Stone's September 2017 edition. On the cover, Gal is wearing the "Shale Pant" by MANAM. The design is a beige, high-waisted pant with six pockets, logo patch, and ankle zippers. The pants are made of stretch lambskin, which is very soft to the touch, and comfortable to wear. The strong angular design screams "power" and "elegance," perfectly fitting for the Wonder Woman!
Natalie's design stood out among several other well-known designers being considered to outfit Gadot. Needless to say, her pants being chosen came as quite a surprise to the up-and-coming designer. "I was completely speechless upon receiving the initial request via email [Enter: Tears of joy]. You can bet it happened again when stylist, Lauren Ehrenfeld, texted me after the shoot to tell me that my pants got the cover shot! I am so thankful and honored to have this as MANAM's first major magazine feature! First of all, I couldn't dream of a more incredible representation of my brand's personality. And I must say that there is no more fitting role model to be seen sporting my products. I am so proud that this amazing woman/mother/total babe is rocking leather pants by MANAM!"
The pants worn by Gadot are made in beige and black and are available along with Natalie's other work at https://manamfashion.com/
Natalie Yaru is the CEO and head designer for MANAM. The company specializes in leatherwork and loungerie. When her first leather collection was well received while attending Woodbury University, she decided translate the designs from runway into ready-to-wear. From there, MANAM's launch collection, "Skin & Stone," came to life.
Most of Natalie's work is crafted by hand though she does contract ORTU Leather in Downtown LA for some works. Local production enables each MANAM product to be carefully monitored for quality. Close attention to detail in the construction of each piece is a top priority. Their customers report appreciation for the skills and passion they put into their products. They incorporate special features into their designs such as custom leather treatments, hand-dyed linings, graphics, and labels.
Natalie is striving toward building MANAM to be a brand not only known for producing covetable goods, but for its professional standards and practices as a business. They hope to assist in re-shaping the value systems of the fashion industry, putting people first, and money somewhere less relevant because, in Natalie's words, "It's the only way to create something with lasting value and impact."
For more information about Natalie and MANAM, visit https://manamfashion.com. To schedule an interview with Natalie, or for other PR inquiries, contact SMT Entertainment at SMTentertainment@gmail.com.