Announcing eLuma's All-Inclusive Telehealth Curriculum Platform - Content, Lesson Planning, Apps, Assessment
School district special education programs all over the country are facing a similar challenge: How do we bring high-quality therapy and mental health services to our students without sacrificing quality? Live, online speech therapy, online occupational therapy, and online mental health services are a great solution. eLuma has released the latest update to their industry leading platform so special education teams everywhere can access the best telehealth services available.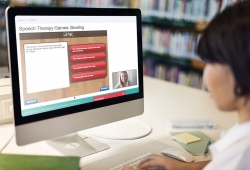 Lehi, UT, September 19, 2017 --(
PR.com
)-- eLuma's Virtual BackpackTM
eLuma has released the industry's first ever telehealth curriculum platform designed specifically for online speech therapy, online occupational therapy, online counseling, and other related telehealth services. Successful and sustainable teletherapy solutions are blended, and eLuma creates the tools to enable a school's onsite and eLuma's online staff collaborate more effectively.
The Virtual Backpack is the first of it's kind and bridges the gap between onsite staff, online therapy staff, parents and students. Every program that implements online therapy needs to consider how to blend onsite and online therapies effectively, and there's no better way to do it than with a company who specializes in developing the technologies and providing the teletherapists that make that happen. Stakeholders already have access to real-time progress monitoring data, IEP goal tracking, scheduling, and robust reporting in eLuma's platform. Now they also have tools to develop custom therapy curriculum and gain access to tens of thousands of pieces of effective content and lesson plans.
Key Features for Online Therapy Delivery
eLuma's all-inclusive curriculum platform for online therapy includes many game-changing features, a few of which include:
- Over 30,000 pieces of content and growing daily
- Easy content creation
- Lesson planning, reducing the time it takes to deliver therapy online
- Any content type you can imagine, including built-in and customizable apps
- Powerful searching for access to any content within seconds
What People Are Saying
"With eLuma and their platform, I can pull a report and walk into any IEP meeting knowing I have everything I need." - Vici Miller, Special Education Director of Lucerne Valley Unified School District
Abou eLuma
eLuma is a premier provider of live, online therapy for K-12. They offer online speech therapy, occupational therapy, and physical therapy, as well as psych, counseling, and behavior intervention to K-12 schools and districts all over the US. eLuma presently serves over 3,500 special education students in 25 states. With a large network of high-quality and credentialed therapists, as well as a proprietary platform, eLuma ensures that schools and their students get what they need in the most effective, efficient and dependable way.
How to Take Advantage of eLuma's Telehealth Platform for Live, K-12 Online Therapy
Visit eLuma's website (
http://www.elumatherapy.com/telehealth-platform/
) to learn more about their game-changing platform for schools, districts, and all those who aspire to providing world class online therapy.
Media Contact
George Dayton
Director of Business Development
(877) 496-3332 x752
gdayton@elumatherapy.com
Contact
eLuma | Online Therapy
George Dayton
(877) 496-3332 x752
www.elumatherapy.com

Contact