New Book Introduces an Alternative Approach to Leadership
"If you want to lead in this hyper-complex world, the only viable means is through collaboration. Authors Charles Manz and Craig Pearce reveal exactly what it will take on your part. Their arguments are compelling. Their examples are powerful. Their guidance is critical. They'll open your eyes to fundamentally rethinking how you need to lead." - Jay A. Conger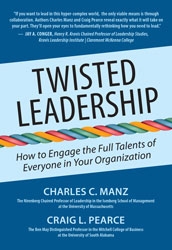 Palmyra, VA, September 19, 2017 --(
PR.com
)-- According to professors Charles Manz and Craig Pearce, today's business, political, and not-for-profit worlds are plagued by a leadership disease – the overly simplistic view that leadership primarily resides in one person or a small set of people who influence lower-level subordinates. That view fosters corruption, abuse of power, and the waste of human talent by those in power. Manz and Pearce present an antidote to the leadership disease in their new book "Twisted Leadership."
"Leadership is a dynamic social process, not just a role occupied by someone at the top," according to Manz. "Our book shows people how to combine four practical leadership approaches/strands to create strong, synergistic, intertwined leadership that can be exchanged among all members of an organization based on the context, goals, knowledge, experience, or general needs of everyone involved." The four leadership strands are:
Self-leadership – which largely explodes the notion of sheep-like followers by designating everyone as a leader . . . of themselves
SuperLeadership – a practical, hierarchically connected approach to leadership that's centered on leading others to lead themselves and one another (to self-lead and share the lead)
Shared Leadership – which describes how nearly every group member can play an important role in a dynamic, interactive, leadership process
Socially Responsible Leadership – which connects leadership to a value base that's concerned with the welfare and needs of all stakeholders
The authors show how to integrate and balance these four strands of leadership across a broad range of situations. They also argue that leadership development has to be applied across a much wider range of people, to the whole workforce. "The lines between leaders and followers (who often know more and are in a better position to exercise leadership over themselves and others at key points of work processes) have become blurred," says Pearce. "The time has arrived for a new kind of twisted leadership that works with and for everyone."
"Twisted Leadership" is published by Maven House Press.
About the Authors
Charles C. Manz, Ph.D., is the Nirenberg Chaired Professor of Leadership in the Isenberg School of Management at the University of Massachusetts Amherst. In addition to his academic work, he is a speaker, consultant, and bestselling author of more than 20 business books, including SuperLeadership, Self-Leadership, Emotional Discipline, and The Leadership Wisdom of Jesus. Manz has been awarded Harvard Business School's prestigious Marvin Bower Fellowship and the Stybel-Peabody National Book Award.
Craig L. Pearce, Ph.D., is the Ben May Distinguished Professor in the Mitchell College of Business at the University of South Alabama. In addition to his academic work, he is a speaker, consultant, and entrepreneur. He's the author of Share, Don't Take the Lead and the editor of The Drucker Difference and Shared Leadership. He won the Center for Creative Leadership award for his work on shared leadership.
About Maven House Press
Maven House is an independent publisher specializing in forward-thinking business and personal success books by executives, business owners, educators, and other experts. Its titles are distributed worldwide by Ingram/PGW/Legato. For more information visit mavenhousepress.com.
Contact
Maven House Press
Jim Pennypacker
610-883-7988
mavenhousepress.com

Contact