"My Stars Are Still Shining" a Memoir by Amina Warsuma
Amina has succeeded in authoring an inspirational memoir about her life as an international fashion model whose life has influenced so many others. Her journey from the tough streets of Harlem to the high-fashion runways of Paris and New York is remarkable. Companions on Amina's journey include fashion-world luminaries, movie stars, and renown artist. Quite a contrast with her life as a physically and psychologically abused child.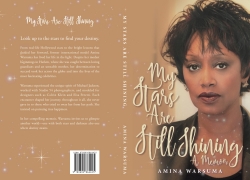 New York, NY, September 22, 2017 --(
PR.com
)--
My Stars Are Still Shining
Look up to the stars to find your destiny.
From real-life Hollywood stars to the bright lessons that guided her forward, former international model Amina Warsuma has lived her life in the light. Despite her modest beginnings in Harlem, where she was caught between loving guardians and an unstable mother, her determination to succeed took her across the globe and into the lives of the most fascinating celebrities.
Warsuma experienced the unique spirit of Michael Jackson, worked with Studio 54 photographers, and modeled for designers such as Calvin Klein and Elsa Peretti. Each encounter shaped her journey, throughout it all, she never gave in to those who tried to sway her from her path. She insisted on pursuing true happiness.
In her compelling memoir, Warsuma invites us to glimpse another world—one with both stars and darkness also one where destiny awaits.
Contact
Agent Zero Productions, LLC
Amina Warsuma
323-449-7815
https://www.createspace.com/7016802

Contact