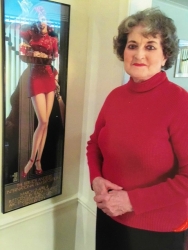 Detroit, MI, September 23, 2017 --(
PR.com
)-- Patricia Emery, a self-made woman with an impressive Ford Motor Company background as a Statistical Supervisor, has created a unique service, namely romance and baseball stories to its loyal global readership for gifting to their loved ones. Ms. Emery has assembled an exemplary team of others of her own gender in non-profit Stellar Scholars' rise to worldwide prominence.
Celebrity stars from the largest soap operas and big name actresses have signed on to endorse her creation, as well as a staunchly fanatical following of love and baseball aficionados from 50 States, the District of Columbia, and 30 foreign countries from Ireland to Israel, from Moscow to the City of Love itself, Paris, France.
There have been 259,000 story reads at the two sites and Stellar Romance only debuted in April 2016.
Patricia Emery has always been a woman of diverse creative tastes in cars, cartoons, sports with particular passion for baseball and hockey, and brilliant writing essaying the mysterious workings of male and female relationships and the enduring American Pastime of Baseball.
Among Ms. Emery's canny distaff discoveries with Co-Chair Francis Dattilo have been Creative Director and recognized Stellar Scholars "superstar" Ashley Sword, Editorial Director of Stellar Novellas Jennifer Watters, talented writers Darlene House, former President of Detroit Women Writers, as well as Amanda Cornell Creative Writing Champions Victoria Rhodes from Cornell University, Kelsey King from University of North Carolina at Chapel Hill, Amanda Glickman from Northwestern University and Megan Pakieser from Mankato State of Minnesota. Too, there is Avanti Awards Car Design hostess Rachel Ventura, account executive at Ford's major ad agency.
Add songstress/songwriter Catherine Grimshaw of popular and spiritual music acclaim -- she sang with Antal Dorati's Detroit Symphony Orchestra at Carnegie Hall in New York City as well as rendered the National Anthem for the Detroit Red Wings for three years -- plus, following in Patricia's avid interest in comics, Marie Roy of Stellar Scholars' insightful "social comic-tary."
Attendant to her remarkably successful enterprise, it was three of Patricia Emery's most astute managerial moves that accelerated Stellar Scholars to the "next" level of stratospheric and planet-wide growth: One, the choosing of prestigious printers like Laurie Schiller of Thomson-Shore for their line of Stellar Novellas under Jennifer Watters, and book designer Judy Seling; two, the introduction of real-life models to portray the lead roles in their wildly popular love stories; three, that those stories be delivered aloud on Stellar Romance and sister satellite site Saints and Scholars as "StoryTube" live-reads on YouTube. The trio of canny business decisions by ex-Ford statistical wizardess Patricia Emery have achieved staggering success.
There is nothing quite like Ms. Emery's Stellar Scholars, as witness, too, the upcoming Bettie Page Charity Open for breast cancer survivors featuring Stellar Scholars' own invention of hybrid, helmet-to-helmet Wilderness Golf, about which Golf.com proclaimed:
"If you are brave enough for wild golf, you are brave enough to dream."
Brave enough indeed, Stellar Scholars even has its own heavenly patroness in St. Kateri Tekakwitha, the first native-born American Saint.