The Morgan Leary Vaughan Fund Wins Health + Wellness Design Award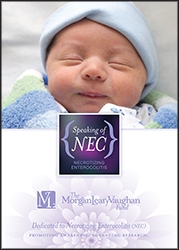 Naugatuck, CT, September 27, 2017 --(
PR.com
)-- The Morgan Leary Vaughan Fund (Morgan's Fund) is pleased to announce that it has received an award from Graphic Design USA (GDUSA). The "Speaking of NEC" brochure, created as a companion piece to the audio podcast series of the same name, has been recognized as part of GDUSA's 2017 American Health + Wellness Awards™.
For five decades, GDUSA has presented competitions that focus on areas of growth and opportunity for graphic design. In 2017, that's the perfect description of health and wellness, the fastest-growing segment of the economy and the epicenter of the national conversation. This competition encompasses the big picture of healthcare: traditional medical industries such as doctors and nurses, hospitals and nursing homes pharmaceuticals and insurance, senior care and aging, mental health and counseling; healthy lifestyles such as fitness and
exercise, organic foods and natural products, life and work balance, meditation and spirituality; and public health and community education initiatives. (Source: GDUSA)
The brochure is intended for clinicians and parents of very low birthweight babies, those who have the greatest risk of developing Necrotizing Enterocolitis (NEC). The goal in founding The Morgan Leary Vaughan Fund, and in turn developing and producing "Speaking of NEC," has always been to be for others the resource that they could not find.
"Personally, as a designer myself, it is a great honor for the brochure to be recognized for its design excellence," said Stephanie M. Vaughan, Co-founder and President, Morgan's Fund. "More importantly though, I hope that this recognition helps not only garner much needed attention for NEC outside of the neonatal intensive care unit but also elevate NEC in the public's consciousness and conversation."
Key contributors to the brochure were designer Jane Mahoney and copywriter Nicholas Efstathiou.
About The Morgan Leary Vaughan Fund
The Morgan Leary Vaughan Fund (Morgan's Fund) emerged from a need to establish a mechanism for:
• Disseminating credible and timely information about Necrotizing Enterocolitis (NEC) to parents whose infants are most at risk for developing NEC
• Raising the level of public awareness about NEC and the potentially devastating effects it can have on infants and their families
• Advancing research to prevent, diagnose, treat, and ultimately, cure NEC.
Currently, it is headquartered in Naugatuck, Connecticut with a satellite office in Austin, Texas.
Background
NEC is a rare disease that leads to necrosis (death) of the intestine. It is predominately due to prematurity and its statistics are startling:
• NEC is the second leading cause of death in premature infants
• NEC affects about 9,000 of the 480,000 infants born preterm each year in the United States
• For very low birth weight babies, who weigh less than 3 lbs, the chance of developing NEC is approximately 1 in 14
• All newborn infants born preterm or born with a low birth weight (less than 5.5 pounds) are at increased risk for NEC. The smaller the infant or the more premature the delivery, the greater the risk.
(Sources: UC Davis Health System and NICHD.)
Contact
The Morgan Leary Vaughan Fund, Inc.
Stephanie M. Vaughan
203-606-4873
www.morgansfund.org

Contact