Acer Exhibits and Events Launches New Website
Acer's new website launch coincides with recently being recognized for the 4th year in a row as one of the FAB 50 Exhibit Fabricators in the US by Event Marketer.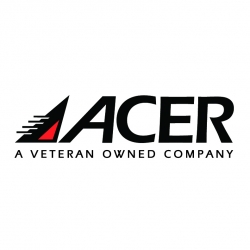 Havre de Grace, MD, September 27, 2017 --(
PR.com
)-- Launch coincides with recently being recognized for the 4th year in a row as one of the FAB 50 Exhibit Fabricators in United States by Event Marketer.
Acer Exhibits and Events, a veteran-owned company, announced today the launch of its newly revamped website. This redesigned site offers quick and easy access to essential information, while offering a more comprehensive understanding of the Company's value proposition and overall client benefits. The website also showcases Acer's award-winning portfolio of exhibits, their new 170,000 square foot multifaceted facility located in Havre de Grace, MD., client testimonials, case studies, senior management biographies, veteran-owned history and philanthropy, news and career opportunities.
The new website has a clean uncluttered design, improved functionality and enhanced rich-content focused on the Company's mission to develop and maintain the highest level of innovative design, quality fabrication and responsive customer service through creative solutions and effective systems. The new website went live September 26, 2017 and is located at the same address: www.acerexhibits.com.
Tied into this announcement, Acer was recently recognized for the fourth year in a row as one of Event Marketer's top 50 Exhibit and Events companies in the US. Five years ago, the editors of Event Marketer, along with the analysts at the Event Marketing Institute, developed the Fab 50 – a list of the top 50 fabricators serving the event and exhibit industry in North America. In an era where a marketer's choices are ever expanding, Event Marketer compared companies across the United States to find the ultimate top performers. Acer Exhibits is proud to announce that its continued focus to ignite brand pride and provide exhibit greatness has been recognized for the fourth year in a row.
Mark Crane, Acer's CEO energetically stated, "The timing of our website launch is perfect, coinciding with the recent announcement in Event Marketer. I am grateful for the coincidence, since our new website (https://www.acerexhibits.com) proudly provides a venue to showcase the team, the innovative solutions, and the clients that have helped us to maintain our 'Top Performer' status on the Fab 50." Mr. Crane continued to expand, "To be recognized as one of the Top 50 companies in the Event Marketing Industry, is humbling – we are surrounded by a growing variety of formidable competitors. To be included in Event Marketer's list for four years in a row, demonstrates the continued value we provide to our clients through our innovative and extraordinarily talented team at Acer."
"We believe that this new site will allow our visitors to have a very informative experience as we continue to grow and increase our market presence," stated Michael Dunne, Acer President. "The technologies we employ at Acer are cutting-edge and constantly advancing, from light-weight composite-materials, to innovative technical and experiential solutions that engage and immerse visitors, it is our ability to 'stay ahead' that truly allows our clients to stand out!" Michael continued, noting, "I'm excited about our new website launch and the recent inclusion in the Fab 50. It is all about advancing and providing superior service to our clients. The culmination of these two events demonstrates not only our outstanding track-record, but our continued drive to evolve and provide the highest level of service at every stage and through all of our relationships."
About Acer Exhibits & Events:
Structured to provide exceptional exhibit marketing experiences with superior service, Acer Exhibits & Events is a veteran-owned custom exhibit agency strategically located to serve the needs of regional, national, and international brands. Whether the complexities of your marketing program require a custom exhibit, a rental, experiential attendee program or a modular solution, let Acer's experts show you how to optimize your show investment anywhere in the world.
Acer Exhibits Website:
https://www.acerexhibits.com
About Event Marketer:
Event Marketer Magazine was founded in 2002 to serve the information needs of strategic brand-side event marketers and agency executives across the spectrum of face-to-face marketing–including mobile marketing, mall marketing, street events, trade shows, corporate events, proprietary events, virtual events, buzz marketing, p.r. campaigns, sponsorships, business-to-business events and press events. It has become the world's most respected provider of content for the event and trade show category. Our portfolio includes our flagship magazine, twice-monthly EM Buzz enewsletter, the annual Experiential Marketing Summit executive conference, the Ex Awards, the annual EventTech technology conference and Experience Design & Technology Awards and more.
FAB 50 Website:
http://www.eventmarketer.com/fab50-2017/
Michael Dunne
Acer Exhibits
877-237-2237
mdunne@acerexhibits.com
Contact
Acer Exhibits and Events
Michael Dunne
877-237-2237
www.acerexhibits.com

Contact