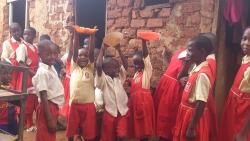 New York, NY, September 27, 2017 --(
PR.com
)-- On Thursday, October 19 at the Roger Smith Hotel in New York City, Lend a Hand Uganda - USA (LAHU-USA) will host it's Third Annual Poker Tournament to support its newest project, providing running water, healthy lunches and needed latrines for LAHU-USA "adopted" schools in the districts of Uganda.
Players can join at multiple sponsorship levels, starting with the most basic: an individual poker buy-in for $200 (which includes 5,000 in starting chips) and a VIP individual poker buy-in for $288 (which includes pre-tournament VIP reception and 1,500 additional chips for 6,500 total in starting chips). The top prize of the night includes a Cash Prize and a seat at the 2018 Poker4Life Lucky "13" Annual Charity Poker Championship. There are other exciting prizes for participants, but the best reward will be in knowing that anything contributed for this event will go towards providing clean water, latrine construction materials, labor, and basic education to allow children to have safe and sanitary conditions for learning.
"The evening is shaping up to be a blast, with a great mix of sports stars, poker champs and people who just like to have fun for a great cause," said Harriet Zaffoni, founder of LAHU-USA and CEO of Harkiss Designs, a socially-conscious enterprise based in New York. "We are looking forward to some competitive poker playing—but if that's not your game, we'll also have blackjack and entertainment." Ticket purchase can be found here:
http://www.lahu-usa.org/events/pokernight
During the event, one African Photo Safari Adventure will be auctioned off. The winner will receive a package valued at $5,950, including accommodations for two for 6 nights, meals and safari activities. The cost of airfare and excursions are not included. Raffle tickets can be purchased in exchange for a donation to LAHU-USA. More information can be found at http://lahu-usa.org/safari.
Current sponsors include the Poker Divas, Zulu Nyala, Badger & Welsh Bespoke, among others.
For sponsorship opportunities please contact us for more information. The benefit will be held at Roger Smith Hotel, 501 Lexington Avenue, from 7:00 p.m. to 11:00 p.m., with a VIP reception starting at 6:00 p.m. First card dealt at 7:15 p.m.
For more information about LAHU-USA, you can visit our website at: lahu-usa.org or follow us on Twitter @LAHUUSA; the Facebook page, or follow #LAHUUSApoker.
About Lend a Hand Uganda USA (LAHU-USA)
Lend a Hand Uganda USA (LAHU-USA) is a registered 501(c)(3) non-profit organization based in New York City. Since 2014, LAHU-USA has been committed to facilitating education, empowering sustainable change in both urban and rural Uganda.
LAHU-USA strives to give children and the communities they live in. Lahu-USA believes that this holistic approach fosters permanent change that will improve lives.This is why LAHU sponsors the the lunch program, education, health and nutrition programs. For more information, go to lahu-usa.org.