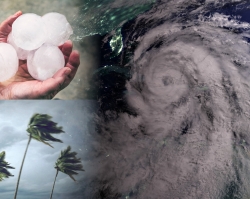 Santa Ana, CA, September 28, 2017 --(
PR.com
)-- The east coast of North America and the Caribbean have been hit extremely hard in 2017 with Hurricanes Harvey, Irma & Maria making landfall. Now is the time to upgrade your daylight protection without limiting your visible light transmittance (VLT). Kingspan Light + Air (the new name for Bristolite Daylighting Systems and CPI Daylighting) has a range of skylights suited to the High Velocity Hurricane Zone (HVHZ). With the use of polycarbonate glazing and heavy duty top down and side fasteners, these skylights will protect against what mother nature throws its way. With this protection comes excellent visible light transmission with diffusion diffusion which provides better lighting performance even when compared to the competition's HVHZ models.
Kingspan Light + Air's Tufflite Polycarbonate and Quasar Prismatic Nanosphere skylights meet a large list of safety standards including but not limited to: GSA TS01, FM Hail Testing, Hurricane NOA, Florida Building Code, OSHA and ICC-500. Along with all of this piece of mind comes a ten (10) year warranty from Kingspan Light + Air which warrants that Polycarbonate skylights will be free from defects in material and workmanship and that no water will leak through the commercial curb top or self flashed skylight. This warranty also includes coverage against documented 2" hail stones or smaller as well as cracking or crazing of polycarbonate dome material that would result in a water leak.
A skylight damage response team is standing ready at Kingspan Light + Air because of the expected thousands of skylights which have been damaged in the recent hurricanes that have now caused over $300 Billion in economic loss and damages. With more severe weather in the forecast, Kingspan Light + Air has formed a Skylight/Smoke Vent damage response team to provide quick deliveries of Polycarbonate products.
Kingspan Light + Air is the newest division of Kingspan Group from Kingscourt, Ireland, a global provider of energy efficient building systems and known as the world's largest manufacturer of insulated metal building panels. Kingspan Light + Air North America is the new name for Bristolite Daylighting Systems & CPI Daylighting which have over 80 years of combined experience in producing the broadest line of daylight solutions. Kingspan Light + Air globally is a 2,000 employee, €200 million business focused on energy solutions in daylighting, LED, natural ventilation, and smoke and heat evacuation. For more information, please contact our North American Headquarters located in Santa Ana, California toll free at (800) 854-8618 or visit their website at
www.kingspanlightandair.us
.