Summer of Dreams, Andy Sturt Studies the Customer Experience, One MLB Stadium at a Time
When the boys of summer hit the road, so did Graduate student Andy Sturt. Armed with questions about the customer experience and a life-long passion for baseball, Andy set forth to see every major league stadium in America during the 2017 season. Andy is living his field of dreams and invites you to engage in the virality of his great American road trip brought to social media and beyond. Andy is available for interviews to talk about his adventure, and all things baseball.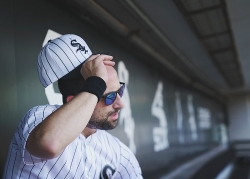 Denver, CO, September 29, 2017 --(
PR.com
)-- A Temple University graduate student is the first person to study the fan experience at every Major League Baseball Stadium, by car, in a single season.
It's officially called "An Auto-Ethnographic Study of Fan Experience at Major League Baseball Stadiums," but as it does on a road trip, things change along the way. The purpose of this study, the first of its kind, is to compare the overall game-day fan experience at multiple ballparks, over the course of one season, from the perspective of one single fan. From stadium to stadium, Andy Sturt studies everything from the ballpark to concessions and everything in between.
"The energy of fans in the ballpark has been the most-important indicator of a good experience," said Sturt, 36. "Oakland may have one of the least visually appealing stadiums, but its fans are amazing. If teams can connect with their fans like the Athletics have, they can develop an impressive fan experience from top to bottom."
Andy Sturt is on his version of the "Great American Road Trip" by visiting all 30 Major League Baseball stadiums in a single season. Beginning in June at Wrigley Field, the 36-year-old was determined to receive high marks on his road trip, which is serving as course credit in his sports business graduate program at Temple University in Philadelphia. Andy will conclude his trip in Boston on October 1 and is currently driving to New York City to watch the Yankees play on September 30th.
While the project originally began with the intention to visit 15 stadiums, Sturt's passion motivated him to visit every team in the league. To date, he has visited 22 national parks and expects to put over 30,000 miles on his Toyota Camry Hybrid by the time he finishes visiting his final park on October 1. He has driven through 38 states, Canada, and Mexico, and along the way, stopped to visit 22 national parks.
"I consider this the 'Great American Road Trip' because it's something people aspire to take," said Sturt. "People plan trips like this their whole lives, but I'm fortunate enough to be turning my dream into a learning experience over the summer. I've discovered a newfound passion for nature on this trip and have seen so many wonderful places between ballparks."
Within three months, Sturt has also become a social media phenomenon, Sturt has gathered nearly 80,000 Instagram and 8,000 Twitter followers who follow his journey from city to city.
"It's really cool that I've connected with so many people digitally. I'm thrilled fans have embraced me and can live vicariously through me on my social media platforms," said Sturt. "My car is branded. Fans stop me almost daily to tell me they've seen me on social media. They now recognize my car from photos I've posted."
Andy's parents took him to games in Chicago as a child. His love of baseball began early and continues to this day. The research experience has also created a new goal for Andy. He wants to be the first openly gay sports personality. "I want people to see it is OK to be who you are and succeed," said Sturt, "The only limitations in life are the ones any of us puts on ourselves."
To learn more about Sturt's journey, his thoughts on each stadium, and more, please visit
www.andysaidwhat.com
or follow him on Instagram (@whatwhatandy).
Contact
Andy Said What!?!
Kimbirly Orr
303-601-6931
andysaidwhat.com/author/andysaidwhat/

Contact
Multimedia
Recognized for his car, Andy Sturt is often stopped as he traverses America during his "Great American Baseball" Adventure. Andy is studying the customer experience one MLB baseball park at a time.