Colorado's Bed & Breakfast Innkeepers Association to Host Web and Social Media Workshops for Innkeepers and Aspiring Innkeepers November 6th
The Bed & Breakfast Innkeepers of Colorado will meet on Monday, November 6th from 11:00 a.m. to 3:00 p.m. in beautiful Woodland Park, CO, for a special networking and educational event where innkeepers and aspiring innkeepers will share information and learn important marketing tips from experts in website design and marketing, and social media. This is a chance for those in the travel industry to "Get Social."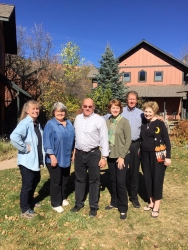 Colorado Springs, CO, October 12, 2017 --(
PR.com
)-- Starting at 11 a.m., BBIC Association members will receive updates and a report on the association's marketing plan. Members will provide input on next year's marketing and advertising efforts and budget. Included will be input on the 2018 State B&B Guide, social media and advertising plan for the association. The association also welcomes non-members to attend and see what BBIC is all about as the "only" State B&B Association dedicated solely to Colorado's bed and breakfast industry.
At 12:00 noon, lunch will be served and at 12:30 p.m., workshops will take place on web tools and tricks and social media marketing to engage attendees in keeping up with the electronic times.
Featured speakers include:
Chelsy Offutt - Director of Communications for the Colorado Springs Convention and Visitors Bureau. Chelsy will focus on a Social Media tour for a travel journey, both for beginners and seasoned Tweeters.
Annie Buck - Local, Social Media and Education Support at Acorn Internet Services will help you determine if innkeepers are on the right marketing path.
Stop selling and start inspiring, educating and getting "social" with travelers including:
- All About Blogs - Learn about three formats to keep readers coming back for more.
- Social Synergy - How the "Rule of 5" can amplify a message and make (social) life easier. So, a bed and breakfast business is on social media. There is a post of a cool photo here and there, someone is given a well-deserved Retweet, and maybe scrolled on an Instagram feed or two. While an innkeeper may not be a social media novice, Chelsy will give a refresher on how to best leverage platforms for exposure and engagement.
Keep Informed of Today's Ever Changing Online Landscape. The Web is constantly changing and Annie will share with attendees, the most up-to-date information and tricks of the trade to make and keep a successful online presence. Annie will outline the Free Google Tools to Use Including:
-Track Revenue Sources
-Keep Track of Your Health
-Make Sure Your Site is Up to Speed
-Give Google the Correct Information about Your Business
-Make Sure Your Code is Correct
Both Chelsy and Annie are website and media professionals, providing a great opportunity to learn from best.
At-A-Glance Innkeeper Networking/Meeting/Workshops:
Monday, November 6th, 2017
*Edgewood Inn, 10975 Loy Creek Road, Woodland Park, CO
11:00 a.m. Membership Networking, Association Marketing Update, Budget Report and Business Meeting (Non-members welcome)
12:00 noon Lunch
12:30-3:00 p.m. Marketing, Website and Social Media Workshops
Location: Edgewood Inn, 10975 Loy Creek Road, Woodland Park, CO
Cost: BBIC Members Free (lunch included)
Non-Members $15 (lunch included)
Register by sending an email to
Info@InnsofColorado.org
with attendees specific contact information including attendee name/s, address, phone and email.
Contact
Bed & Breakfast Innkeepers of Colorado
Sallie Clark, President
719-471-3980
www.innsofcolorado.org
Karen Cullen, Administrator

Contact