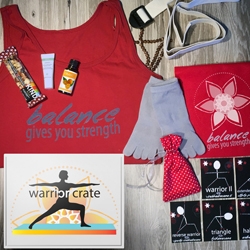 Findlay, OH, October 15, 2017 --(
PR.com
)-- Build & Succeed in Yoga & Life - Yoga Warrior Crate opens a totally unique and inspirational way to bring intention to your practice. Yoga Warrior Crate hopes to raise $25,000 to help bring more inspiration to yoga and life.
Today the Yoga Warrior Crate launches on the crowd-funding site, Indiegogo -
https://igg.me/at/yogawarrior
. Support levels are available starting at just $5 - as well as the opportunity to be first to sign-up to receive a crate for $40.
The Yoga Warrior Crate was created by Nicole Busenbark, yoga enthusiast and teacher, to help bring more motivation, fun and inspiration to each yoga practice. The Yoga Warrior Crate is a monthly subscription box that contains a variety of yoga items. Each of the monthly crates are designed around a theme for the month. Some examples of these themes are Balance, Beauty, Compassion, and No Fear. Each month, subscribers to the crate will receive unique items to help focus and empower their practice. These items include:
• A new yoga sequence
• Monthly themed yoga item
• Yoga tank top
• Essential oil
• Yoga prayer flag
• Yoga poses magnet set
• A meditation and Mala beads
• Beauty & snack sample
The Yoga Warrior Crate holds inspiration for everyone - from people that are hesitant to try yoga to enthusiasts that have been doing yoga for years.
Nicole Busenbark, developer of the Yoga Warrior Crate, explains, "The Yoga Warrior Crate is an important project to me because I want to share yoga with others. Yoga brought me more fulfillment and freedom through movement. Each practice gave me the same inspiration and feeling of beauty and inner peace that comes from exploring nature. Yoga makes you feel great and feeling great inspires a motivation to continue to build and succeed in yoga and life."
You can support the Yoga Warrior Crate on the Indiegogo page now; crates and subscriptions start at $40. https://igg.me/at/yogawarrior
About Yoga Warrior Gear:
Yoga Warrior Gear is a new Online yoga community that supports improving your yoga practice through, inspiration, yoga gear, videos, sequence ideas, and the Yoga Warrior Crate. Yoga Warrior Gear is based in Findlay, Ohio.