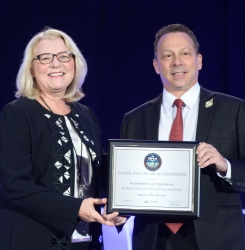 Palm Beach Gardens, FL, October 23, 2017 --(
PR.com
)-- Bumrungrad International Hospital (BIH) (https://www.bumrungrad.com/thailandhospital), a pioneer in medical travel since 2002, has been awarded a three-year term of "Accreditation with Excellence" by the Global Healthcare Accreditation Program (http://globalhealthcareaccreditation.com/) for its Medical Destination Program.
As one of the largest private hospitals in Southeast Asia, Bumrungrad International Hospital provides patients from over 190 countries with a full range of tertiary healthcare services and over 30 specialty centers. It has been featured by CBS's 60 Minutes, NBC's Today Show, Time, Newsweek, and other international press as a leader in medical tourism. In 2002, BIH made a strategic decision to target international patients and currently over 50% of its patients are medical travelers.
Dr. Erik Fleischman, International Medical Director of Bumrungrad International Hospital accepted a plaque recognizing Bumrungrad's GHA accreditation at the 10th World Medical Tourism & Global Healthcare Congress in Los Angeles, California on October 2nd, 2017.
Dr. Fleischman stated, "Bumrungrad International Hospital has been a leader in International Medical care outside the USA for over twenty years. We were the first hospital in Asia to receive Joint Commission International Certification (JCI) in 2002 and now we are also the first hospital to receive Global Healthcare Accreditation (GHA) in Asia. These important accreditations help us to become a quality and clinical excellence leader in the international medical care realm and show our equivalence in quality care with any great Western medical care system. GHA was particularly fitting for our institution as it is the only certification that helps assure quality care from the time a patient leaves their home to the time they return after medical care. We are a great hospital. We are even better after GHA."
The Global Healthcare Accreditation (GHA) Program is an independent accrediting body that seeks to improve the patient experience and excellence of care received by patients who travel for their medical care and treatment, whether within their own country or internationally.
"Traveling patients and payers are increasingly demanding a high quality patient experience. GHA strives to assure that the patient is actively engaged and that the organization is proactive in managing cultural sensitivities and communication at each touch point along this medical travel care continuum. Additionally, GHA optimizes the Medical Travel Care Continuum and supports healthcare providers in validating quality, increasing visibility, and implementing a sustainable business model for medical travel. GHA congratulates Bumrungrad International Hospital's commitment to delivering best practices in the management of medical travelers and we look forward to continuing our partnership well into the future," stated Karen Timmons, Chief Executive Officer, Global Healthcare Accreditation.
About Bumrungrad International Hospital:
Bumrungrad International Hospital is an internationally accredited, multi-specialty hospital located in the heart of Bangkok, Thailand. Founded in 1980 and listed on the Stock Exchange of Thailand in 1989, it is one of the largest private hospitals in Southeast Asia. Bumrungrad International serves 1.1 million patients annually, including over half a million international patients from 190 different countries.
Organizations interested in The Global Healthcare Accreditation Program can make a request at info@ghaccreditation.com |Tel US 001.561.327.9557 |www.GlobalHealthcareAccreditation.com