Vasaloppet USA Prepares Two Race Courses for 2018, New Race Names Announced
Due to inconsistent snow conditions over the past few years, Vasaloppet USA is preparing two alternative race courses, depending on the 2018 snowfall. The five races have been given new names to align with the two race course alternatives.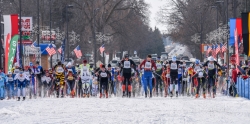 Mora, MN, October 22, 2017 --(
PR.com
)-- Vasaloppet USA race officials have decided to prepare two ski courses, depending on snow conditions, for future races.
The Legacy course will be the traditional point-to-point course from Warman to downtown Mora. The Legacy course will be used if there's an abundant snowfall and most of that snowfall doesn't succumb to January rains or big thaws.
The Mora course will be held on the expanded Nordic Center trail system and utilize snow-making equipment as haps been implemented the past few years. The Mora course would start and finish in downtown Mora.
Fall trail work is currently underway on both courses.
Trail crews say The Mora course for 2018 will consist of at least 14 kilometer loops and perhaps more depending on progress of fall trail work. That would mean skiers would ski anywhere from one to four loops depending on the race they entered.
Future plans call for further trail expansion to create upwards to an 18 kilometer loop and reduce the maximum number of laps, which would mean skiing one, two or three laps depending on the race.
Having the two race trail course alternatives enables Vasaloppet USA to offer a marathon-length ski race, on a fun and challenging trail with hills and through the woods, even during low snow years.
...and new names for the races
Skiers will also see new races names when they go to register for the Vasaloppet this year. Gone are the kilometer-based names: the 58km, 35km, 42K Classic and the 13k. In their place are: The Vasa, The Dala, The Classic, The Bell Ringer, and The Team.
The Vasaloppet's decision to go with two alternative courses, The Legacy and The Mora, made kilometer-named races awkward as the race lengths will vary depending on which course will be used and weather conditions.
The Vasa is the longest race and takes the place of the 58km race, the Dala replaces the 35km, the 42km Classic is now shortened to simply The Classic, and the 13km now will be the shortest race and is called The Bell Ringer. The Teamloppet is shortened to The Team which is also on the 13km short course.
If the race is held on The Legacy course the distances should be close to the kilometer based races. If The Mora course is used (and based on the minimum of a 14 km loop, The Vasa would be a four-lap race, The Classic three laps, The Dala two laps and the Bell Ringer and The Team would go around once.
For more information go to the Vasaloppet USA website: www.vasaloppet.us.
Contact
Vasaloppet USA
Debbie Morrison
320-679-2829
vasaloppet.us

Contact