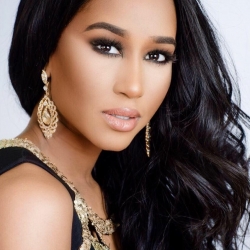 Washington, DC, October 25, 2017 --(
PR.com
)-- Andreia Gibau, a graduate of Brockton High School in Massachusetts, has arrived in the Philippines to represent the United States at the 17th Annual Miss Earth beauty pageant. The contest is followed by millions globally and is recognized as a top three international pageant.
Gibau will spend four weeks conducting environmental mission work and competing in preliminary contests. On November 4, 2017, Gibau will appear alongside 90 national representatives at pageant finals, held at the Mall of Asia Arena in Manila, Philippines.
Managed by Carousel Productions, Miss Earth focuses on empowering women through fashion, leadership, travel, and service. Delegates advocate for environmental awareness and protection of the Earth while showcasing tourist destinations. The reigning Miss Earth is Katherine Espin of Ecuador.
Age 22, Gibau graduated from St. John's University in New York with a degree in public relations. She held the title of Miss Teen United States and first runner up Miss New York USA. On August 4, Gibau bested 50 delegates to be crowned Miss Earth United States during the national pageant, aired on the Dish Network.
Gibau says she competes in pageants, "To give me a voice to inspire and talk about things that I believe in." Her platform is "Act Local, Think Global," encouraging Americans of all ages to reduce, reuse and recycle.
Prior to departing for the Philippines, Gibau spent time visiting elementary schools to read books and teach environmental lessons. She traveled to Puerto Rico for rain forest conservation and looks forward to returning to the island as well as locations like Miami that were recently damaged by hurricanes.
For three consecutive years, the United States has placed in the Top 4 at Miss Earth. Gibau has ranked highly in recent preliminary competitions, receiving a bronze medal in swimwear and a silver medal in resortwear.
Candidates are also judged on video, photo, gown, interview, speaking and environmental knowledge. On November 4, judges will narrow down the candidates to 16 finalists, culminating with the crowning of Miss Earth 2017 as a global ambassador to environmentalism and the face of "beauties for a cause" for one year.
Candidates wishing to claim the 2018 USA title have already begun the state entry process. Gibau will crown her successor on July 14 in the nation's capital.
Follow Gibau at www.missearthunitedstates.com and www.facebook.com/missearthus. International contest details are available at www.missearth.tv and www.facebook.com/missearth.