Turns Out Crackheads Can be Redeemed and This Man is Proof
Crack. The most terrifying word during the 80s besides Hammer pants. It destroyed families, friends, marriages, churches, pimps, prostitutes, Mayors and Senators and the life of one inner city kid from a middle-class family, Russell Tolson, Jr. In this unflinching memoir, Russell takes readers where no one has ever dared to go before – inside the mind of a crackhead.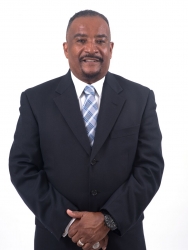 Columbia, MD, October 30, 2017 --(
PR.com
)-- Most people think – once a crackhead, always a crackhead. But for Russell Tolson Jr. that couldn't be further from the truth. In fact, the crackhead, who admitted to robbing almost everyone he met for a hit, is now a successful businessman and minister at House of Prayer Church of God Number One in Capitol Heights, Maryland. And he's sharing his unbelievable prison-to-the pulpit story in a new book, "Memoirs of a Crackhead."
"The compelling, gritty, and at times humorous, real-life saga of Russell and his wife Kathy, was too good of a story not to tell," says co-author Rich D. Fraser. "In writing the book, I realized how many times Russell could have died, but he didn't, because he's here for a purpose."
"I never thought my crazy life was worth anything at one point. But now it's through those tough experiences that I'm actually able to better relate to others who are struggling with their own problems. I can genuinely identify with them because I've been through it all," says Tolson.
Although he was once beaten up, stabbed, imprisoned, evicted, and homeless, Tolson, now free of his addiction spends his days both as the CEO of his thriving electric business, Tolson Electric and as a motivational speaker traveling and ministering to implore, anyone who will listen, not to go down the same path he did. From delivering food at feed shelters to helping the homeless and troubled youths, to outreach to the poor in the Dominican Republic, the PG County native hopes to be the living proof that there is hope after addiction.
"After being delivered from a 22-year battle with crack, you want to scream to the world that change is possible, but only with God's help. No one can fall farther than I did, and I hope the book is a reminder that if I could get out, so can they. It's not where you start, it's where you end and the lessons you learn in between."
To learn more about Russell's incredible story, pick up
Memoirs of Crackhead
by Rich D. Fraser and Russell Tolson today!
View:
www.vimeo.com/194822310
Contact
Voxxity
Lynn Whightsil
917-575-2455

Contact