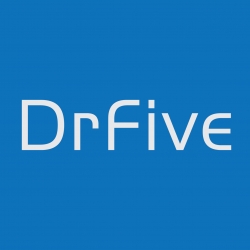 Dubai, United Arab Emirates, November 04, 2017 --(
PR.com
)--
DrFive
– a Dubai-based, independent healthcare ratings website – has re-launched its website after its third year of developments. The culmination of the relaunch is the introduction of the Middle East region's first interactive, searchable map hosting over 13,000 doctors, and 2,000 clinics in Dubai, making the website the biggest network of doctors and clinics in Dubai. They claim to have combined all available public data source on the internet including Dubai Health Authority (DHA), Dubai Health Authority (DHCC), and Google to build "the ultimate regional medical database hosting literally all medical doctors allowed to practice in Dubai." According to Aleco El Hayek, the co-founder, "If you can't find them on DrFive, then it is highly likely they are not practicing in Dubai."
Previously, doctors outside of DHCC could be searched through the DHA website. However, to find the location of the doctor on DHA website, you first had to know a specific practitioners name, or skim through an endless list of names under a specific specialty category to come down with a name and check their practicing facility. Still, you had to search the location of the clinic or hospital separately.
DrFive simply redesigned all these steps, and added more features. By plotting doctors on the map according to their practicing location, you can directly find doctors of every specialty within the location of your interest. Moreover, you can compare these doctors within the search area by user ratings, gender and languages. If you want more in-depth information on the doctor, such as credentials and sub-specialty, you can simply click on the doctor's summary profile on the map.
Doctor searching is only one side of their service. More importantly, DrFive is a platform where people can share their personal experiences with their own doctors to help other patients make a more informed choice on doctors and facilities, which can be vital in receiving the best medical care. Their 5-star rating system is very straightforward for users, and trustworthy as they allow only one review per doctor.
Among the many medical startups in the region, DrFive is unique in its breath of coverage (profiling all doctors in Dubai), nifty application of technology (plotting profiles on the map), as well as the scale of overall potential impact to the medical industry (enhanced transparency and quality). DrFive is intent on further developing services on their platform in an effort to empower patients in finding the best available medical care.