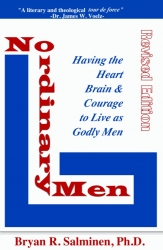 Grand Rapids, MI, February 22, 2008 --(
PR.com
)-- With the release of No Ordinary Men, Rev. Bryan R. Salminen, Ph.D., examines what it means to be a Christian man by weaving the classic story The Wizard of Oz through conventional wisdom. All the bases are covered, including career, fatherhood, sexuality, marriage, pain and emotions. Bryan can discuss:
Misconceptions we have all learned about what it means to be a man.
Filling our heads with more than straw.
Can you have a new heart?
Overcoming fear.
The disillusionment with marriage.
Masculine expression.
Rewriting your script
Credentials:
Dr. Bryan Salminen is a pastor in the Lutheran Church with master's degrees from Michigan State and the University of Toledo, and a doctorate from St. Louis University. He is a licensed marriage and family therapist and clinical member of the American Association of Marriage and Family Therapy. He is the author of No Ordinary Men. drsal@new-gate.org
Availability: Nationwide by arrangement and via telephone
231-920-9881, www.new-gate.org
###