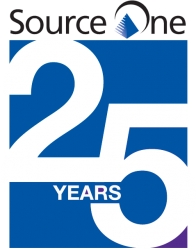 Philadelphia, PA, November 07, 2017 --(
PR.com
)-- Source One Management Services, a leading provider of customized Procurement solutions, has released a new whitepaper titled,
5 Pro Tips for Impactful Procurement
, sharing key advice for companies looking to achieve best-in-class status within their supply management operations.
As more companies invest in their Procurement teams and operations as a strategic method for gaining a competitive advantage, many are impeded by too heavily relying on one-size-fits-all approaches to technology, processes, metrics, stakeholder relationships, and supplemental support. 5 Pro Tips for Impactful Procurement distills Source One's decades of strategic sourcing experience and procurement advisory expertise to explore the common pitfalls companies face when taking measures to enhance their Procurement departments while offering solutions for navigating those obstacles. The new whitepaper focuses on the ways in which companies can invest in the Procurement operations and achieve best-in-class status by establishing practices and tools that match their unique organizational goals.
"As a procurement services provider, our clients turn to us for support in helping them optimize their supply management operations, in many cases looking to pursue technology, process, and reporting-related opportunities to become a best-in-class business unit," explains Joe Payne, Source One's VP of Professional Services. "There's no doubt in the value investing in Procurement can deliver, but we find that there's no single answer for achieving 'best-in-class' status. Our approach in helping clients truly optimize their Procurement operations is based on their individual organizational goals. The whitepaper reflects that mindset in challenging companies to determine their unique fit for their tools, metrics, processes, and external partnerships."
Source One is no stranger to challenging the typical off-the-shelf approach to Procurement. 5 Pro Tips for Impactful Procurement aims to help companies think more strategically when investing in their people, processes, and technology – as well as highlights the resources available to help companies future-proof their Procurement teams.
Source One, the procurement consulting firm that has helped leading companies in numerous industries including manufacturing, healthcare, and finance optimize their supply management operations through their Procurement Advisory, celebrates their 25th Anniversary this year. Among its many milestones spanning the procurement solutions firm's two and a half decades, later this year Source One will be relaunching its eSourcing platform, WhyAbe.com. As the provider of choice for companies looking for simple yet effective tools for procurement professionals by procurement professionals, Source One is proud to release a significantly revamped WhyAbe.com, boasting new functionality and user interface to make connecting buyers and suppliers easier than ever before.
About Source One Management Services
Source One Management Services is the oldest provider of strategic sourcing and procurement solutions. Since 1992, Source One has been the firm of choice for leading companies to enhance procurement and supply management operations. Acting as an extension to client teams, Source One delivers customized solutions in the form of procurement best practices, proprietary market intelligence, category subject matter expertise, and tools to help companies achieve their spend management goals. For more information on Source One, visit us online at: http://www.sourceoneinc.com/consulting-tools/consulting-services/procurement-transformation-advisory/ .