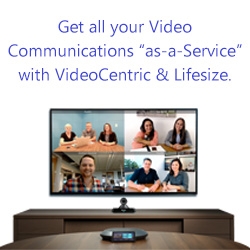 Reading, United Kingdom, November 08, 2017 --(
PR.com
)-- VideoCentric, the UK's leading video conferencing and collaboration integrator, has today announced the rollout of its new "Device-as-a-Service" offering for Lifesize video conferencing and collaboration solutions, allowing organisations to reap the benefits of obtaining their whole video communications solution via a monthly subscription model.
The DaaS model is available for companies looking for a new way to manage devices and support, all the way from the initial rollout until upgrade and recycling, and those looking to avoid high costs of finance and costs associated with depreciation of technology. The offering through VideoCentric also gives organisations peace of mind by limiting their risk if the service stops performing.
The single monthly model can include subscription to the Lifesize cloud-based service and connected HD camera and phone systems, alongside peripherals for the meeting room, and installation, training and maintenance services. This subscription also allows organisations a very clean and transparent cost model that can be customised to budgets, timescales and requirements.
"Organisations are already seeing a dramatic shift across other IT technologies from transactional sales to on-demand services, and so we wanted to offer customers the opportunity to optimise operations and investments in video conferencing and collaboration solutions too. Being smart in business is about achieving value from an investment. Our DaaS programme ensures that we provide the highest quality experience at every level, so that customers achieve optimal value and meet their own business outcomes," commented Emily Shimell, Communications Manager at VideoCentric.
Customers are increasingly looking for more flexibility and simplicity with their conferencing and collaboration solutions. The VideoCentric DaaS offering will provide them with the best Lifesize connected experience coupled with a payment plan that is as simple as a mobile phone contract.
"We are very excited about this VideoCentric initiative to further expand the opportunities for customers to procure and utilise the Lifesize service to best suit their business needs," commented Andy Nolan Vice President Sales Northern Europe at Lifesize.
Plans vary, but typically they include deployment, management, services and eventual end-of-life recycling of the device. Companies choose a length of service, typically around three years, and pay a monthly fee for each solution. For more information, please visit www.videocentric.co.uk or contact VideoCentric on 01189 798910 to discuss DaaS further.
About VideoCentric
Established in 2001, VideoCentric Ltd is an award-winning, fully accredited and independent end-to-end solutions integrator of the worlds' leading video conferencing, telepresence and video collaboration solutions.
VideoCentric design, supply and install on-premise, private, managed, cloud and hybrid video based solutions for businesses in both the private and public sector. From SMB's to multi-national enterprises, VideoCentric's solutions include boardroom & meeting space fit-outs, Video Network deployment & Skype for Business integration, connected workplace services, desktop & remote working solutions, Video Conferencing for meeting rooms, lecture theatres, hospitals and courts, mobile & BYOD conferencing, and professional tools & services for business collaboration.
With a full portfolio of video, collaboration & network solutions from the likes of Cisco, Polycom, Lifesize, Yealink, Pexip, Barco, Crestron, AMX, Revolabs and Bluejeans, VideoCentric provide organisations with high quality solutions that can help greatly reduce costs, improve efficiency & increase productivity across the workforce. Visit our website www.videocentric.co.uk to find out more or follow VideoCentric @VideoCentricLtd.
About Lifesize
Lifesize understand the power of connecting people to make the workplace great. For more than a decade, Lifesize has been at the forefront of video collaboration, delivering high-quality solutions designed to bring people together. They combine a best-in-class, cloud-based video conferencing experience, with award-winning, easy-to-use devices that are designed for any conference room so you can connect to anyone, anywhere. It's a meeting experience like no other. Lifesize video conferencing solutions are designed for the demands of today's modern enterprise, yet fully accessible to businesses of any size. For more information, visit www.lifesize.com or follow the company @LifesizeHD