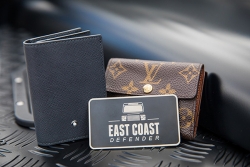 Kissimmee, FL, November 10, 2017 --(
PR.com
)-- Just in time for the holidays, Santa's favorite Automotive Group, East Coast Defender, has announced that it will be releasing a limited number of E.C.D. Ultimate Platinum Cards, valued at Two-hundred Thousand Dollars each, to rev-up your gift giving this holiday season.
The E.C.D. Ultimate Platinum Card won't buy your loved one a diamond ring, or a gold watch; it will however purchase for them an award-winning, custom Land Rover Defender or Range Rover Classic aglow with holiday twinkle and sure to impress.
As is with each of their clients, recipients will work with the E.C.D. Design Team at either the company's world headquarters in Kissimmee, Florida or the Design Center in Malibu, California where they will design the luxury SUV of their dreams.
The E.C.D. Ultimate Platinum Card, is a sophisticated, stainless steel ownership card that includes a first-class experience issued to the purchaser in a his/her designer wallet and valued at $200,000.00. Only 50 of the limited-edition premium cards will be made available in the United States.
The E.C.D. Ultimate Platinum Card is available with two payment options. The first includes an up-front deposit of $100,000.00 to cover the initial investment for your vehicle of choice. Final payment is then due at time of completion. The second option includes zero percent finance charges and equal billing of the $200,000.00 investment over eighteen months.
"The E.C.D. Ultimate Platinum Card is the only gift choice for people looking to give the gift of true exclusivity," states Scott Wallace, East Coast Defender Co-Owner. "It's about the journey our guests experience when commissioning a build from E.C.D.; new owners are whisked away to one of our design centers where they work with our lead designers to create a vehicle as individual as they are. I don't know of any other custom automotive designer who provides such an experience."
To purchase the E.C.D. Ultimate Platinum Card, call (407) 483-4825. For additional information, visit
www.EastCoastDefender.com
.