Virun® NutraBIOsciences® Receives Certification for Production of Organic Products While Launching Natural Algal DHA MCT Multi-serving Smoothies
Virun® NutraBIOsciences® Prepares to Enter the Finished Product Market with Novel Flavors and Celebrates State Organic Certification.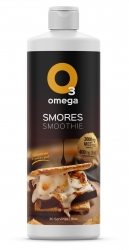 Pomona, CA, November 14, 2017 --(
PR.com
)-- Virun NutraBIOsciences will soon enter the finished products market with its own line of natural smoothies, that do not compete against its current and proprietary private label business. The smoothies feature novel never-before-seen flavors and contain algal Omega DHA and a large dose of MCT sustainably derived from coconut oil.
The smoothies, marketed under the brand name O3 Smoothies, will feature vegetarian-sourced algal Omega DHA from Algarithm Ingredients, 400mg DHA, and a whopping 3,000mg MCT oil, sustainably derived from coconuts, per single tablespoon serving. "These smoothies will occupy a unique space on the shelf, because we are making the flavors that people want but never see in the marketplace," stated Virun Co-founder and CEO Philip Bromley. He continued, "Everyone sells fruit punch. We are going for flavors like S'mores, Rootbeer Float, and Breakfast with bacon, eggs, pancakes and maple syrup. Selling our own product line, which doesn't compete with our current clients, allows us to be creative and give the consumer the products they can't find elsewhere; it may even motivate our private-label business to test new areas." Virun anticipates the launch of the new smoothie line in early December, which will be available for sale online at the Virun store at www.virun.com/store.html.
Coinciding nicely with the launch of Virun's new product line, the State of California Department of Public Health, Food and Drug Branch, recently awarded Virun NutraBIOsciences with its registration as an Organic Product Processor. As a result, Virun is now recognized by the State as a processor of products "sold as organic." "This is a big deal," stated Peter Hoosier, Virun's Operations Manager. "Organic food sales were more than $43 billion in 2016, in the United States alone. And the growth from 2015 was a healthy 8.4%. Organics isn't simply a trend; it's the future of the food industry as consumers become better educated about the benefits of eating and supplementing with natural foods and products." With the new certification, companies looking to manufacture organic functional foods, beverages and supplements now have an innovative solution to their manufacturing and processing challenges.
Manufacturers interested in learning more can contact Virun at innovate.today@virun.com.
About Virun NutraBIOsciences:
Founded in 2003, Virun NutraBIOsciences was formed to create nutritious, great tasting and novel formulations for the food, beverage, supplements and pharmaceutical industries. Located in Pomona, California, Virun is a fully integrated research, production and manufacturing facility, which quickly conceptualizes ideas to create innovative custom bulk blends and finished products for contract manufacturing. Virun is the only biotechnology company that owns over 80 patents worldwide and develops technology around biochemistry practices. Its technologies include Esolv, a clean-label claim emulsifier; OmegaH20, which incorporates Omega-3 EPA DHA into clear, shelf-stable, clean label claim beverages without a fishy taste; Probiferrin, a technology that increases the bioavailability and shelf-life of probiotics in powders and beverages, and other innovative solutions and brands, including its own line of algal Omega DHA MCT smoothies. Manufacturers interested in learning more can contact Virun at www.virun.com.
Contact
Virun, Inc.
Nina Parker
(909) 839-0629
www.virun.com
innovate.today@virun.com

Contact