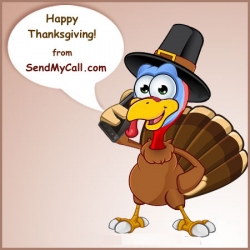 New York, NY, November 14, 2017 --(
PR.com
)--
SendMyCall.com
today unveiled its annual list of reasons Thanksgiving Day celebrants should be grateful for the existence of virtual PBX technology: according to the New York-based company, the Number One reason to be thankful for virtual PBX is it can be a lifesaver in a disaster.
"Here's the scenario: you're an emergency responder in the middle of a hurricane and the mobile device you're using to receive instructions for where to go to rescue people suddenly disconnects because all the cell towers have been knocked out," said SendMyCall spokesman Alexander Rozenman.
"So now you're cut off and people's lives are left hanging in the balance," he continued. "Fortunately, the internet is still there. You connect to it. And because your headquarters is using virtual PBX, you're able to quickly reestablish contact and get your instructions on where to go to save the people in danger."
Citing a Sept. 18 New York Times article, Rozenman insisted the picture he painted is not unrealistic.
"During hurricanes Harvey and Irma, the internet infrastructure took a real pounding but stayed up the entire time, just like it was designed to do," he said. "Not so for the cell system. A number of cell towers were damaged and communications were lost.
"But because the internet stayed up, anyone with a
virtual PBX system
could have kept using it to be in contact with the rest of the world. That qualifies it as a life-saving technology."
Virtual PBX is a technology that allows businesses and other types of organizations to easily utilize sophisticated telephone services via the internet, Rozenman explained.
"PBX stands for private branch exchange," he said. "Traditional PBX systems are hardware-based, but virtual PBX systems are internet-based. Because of that, virtual PBX systems give us a lot to be thankful for."
Rozenman contended that the list of reasons to appreciate virtual PBX is lengthy, but SendMyCall included only the Top 5 in its Thanksgiving tabulation. According to Rozenman, the other four top reasons are:
2. Virtual PBX makes working from home more feasible.
Telecommuting is more attractive than ever, but many companies that could be benefitting from allowing employees to work remotely remain unconvinced that it's a good idea – until they discover virtual PBX, said Rozenman.
"If a company adds virtual PBX, it can have employees spread all over the world and every one of them will be able to utilize the full set of telephony features available to users of the business phone system installed at the headquarters office," he said. "Those features include conferencing, forwarding, transferring, holding, recording, logging, and on and on."
3. Virtual PBX lets employees use any phone they want.
Landlines, mobile devices, and softphones are fully compatible with virtual PBX systems, said Rozenman.
"A virtual PBX system exists in the cloud – it's basically an app," he said. "So any internet-accessible telephony device can easily connect to it. This is very advantageous in terms of helping employees be more productive because, instead of having to master an unfamiliar new phone supplied by their employer, they can stick with the one they've been using every minute of every day for the last year or two or three."
4. Virtual PBX ends guesswork surrounding future communications needs.
Rozenman said a virtual PBX system permits the easy and inexpensive addition of new phone extensions on demand. This, he contended, eliminates the problem companies using traditional PBX have of accurately forecasting how many new extensions will be required in the year or years ahead.
"The old way, if you guessed wrong, you ended up tying up capital by having invested in PBX expansion you didn't need," he offered. "Now, with virtual PBX, you add or subtract extensions when and only if necessary."
5. Virtual PBX is environmentally friendly because it consumes only miniscule amounts of energy.
"The traditional PBX system is a big box of circuitry that draws a lot of electricity from the wall and that generates a lot of heat requiring air conditioning to cool things down," said Rozenman. "None of that applies with virtual PBX, and that all by itself if something to be thankful for on Thanksgiving Day 2017."
About SendMyCall.com
SendMyCall.com is a New York-based provider of internet business phone systems, virtual PBX (also known as hosted PBX or cloud PBX),
virtual phone numbers
, and
toll-free numbers
worldwide for small businesses. Founded in 2007 (and currently celebrating its 10th anniversary), SendMyCall began as a basic call-forwarding service. Today, the company's greatly expanded services allow clients – especially home-based businesses just getting started – to present themselves as sophisticated enterprises with global reach. SendMyCall describes its mission as seeking to help clients improve the quality of their customer service, increase sales, and never again miss a phone call. SendMyCall strives to fulfill this mission by constantly adding features to its products, offering more virtual numbers and toll-free numbers in an ever-lengthening list of cities and countries, and undergoing a customer-driven process of continual quality improvement. To date, SendMyCall has helped spur the growth of hundreds of small businesses. For more information about SendMyCall, please contact the company at: care@sendmycall.com