VOENA Celebrates Winter with a New Concert Season, "Voices of the Season… Wonderland"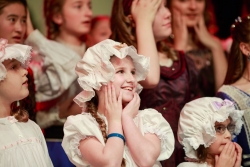 Napa, CA, November 13, 2017 --(
PR.com
)-- For those who have not experienced a VOENA performance, this is not a "proper" stand-at-attention, white shirt, black slacks chorale. There is movement and colorful adornment and instrumental accompaniment and celebration. Standing ovations have become routine, and are well earned. Versions of traditional songs like "Jingle Bells" and "We Wish You a Merry Christmas" will bring you back to childhood memories and new arrangements of "Carol of the Bells" and Deck the Halls" will delight. This season share the holidays with VOENA and enter a Victorian Winter Wonderland that the whole family will enjoy.
Ticket cost is $25-$30 for adults purchased in advance. Tickets are on sale now at www.lincolntheater.com (December 9th concert), www.nvoh.org (December 16th concert) or at www.VOENA.org. Additional information can be found at
www.VOENA.org
.
About VOENA
VOENA is an award-winning children's a capella singing group, serving over 100 children ages 6 to 18 at two regional chapters in Benicia and Santa Rosa. Director Annabelle Marie inspires children to celebrate music through voice, sound, rhythm, and physical expression. Singing in over 25 languages, VOENA has performed around the globe inspiring audiences at the 2012 London Olympics, the Grand Ole Opry, as repeat guests at the White House, for Pope John Paul II at the Vatican in Rome, and as goodwill ambassadors to Bali, Italy, Ireland, China, and Japan. VOENA was the first American choir to sing at the Soweto Festival in South Africa. VOENA will be heading to Carnegie Hall in April 2018 to perform at the magnificent Isaac Stern auditorium under the direction of Grammy winner, composer, and conductor Eric Whitacre, spreading their mission to unite the world and empower future leaders through music.
Photo Credits: Cindi Stephan of Two Irises, www.twoirises.com
Contact: Michelle Fulbrook, Business Manager, VOENA; michelle@voena.org, (707) 363-1538
Contact
VOENA
Michelle Fulbrook
707-363-1538
voena.org

Contact