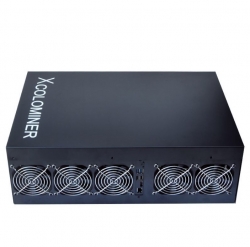 Edmonds, WA, November 15, 2017 --(
PR.com
)-- ColoMiner Founder Patrick Thach announces ColoMiner's new Sparrow Mining Rig will be offered at wholesale pricing for the holidays. The Sparrow was released earlier this fall and features 9 Graphic Processing Units (GPUs) used for mining crypto currencies.
"We have been building this custom hardware for a very long time," says Thach, "We are very excited about Sparrow because we have designed it based on years of experimenting with different configurations. For us, the Sparrow is the perfect combination of size, power and flexibility to optimize Mining ROI."
By offering the Sparrow at wholesale price, ColoMiner's Strategy is to get their professional-grade Mining Rigs to as many miners as possible and to get more people mining.
ColoMiner is starting their Holiday sales campaign early with coupon code GETSPARROW on their website,
https://ColoMiner.com