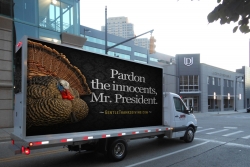 Washington, DC, November 17, 2017 --(
PR.com
)-- The Farm Animal Rights Movement (FARM) calls on President Trump and others to pardon the innocents, particularly the turkeys, for this Thanksgiving observance. The organization will deliver this message on Monday, November 20 through Wednesday, November 22, with a rolling billboard touring downtown Washington and an 11am - 4pm vigil in front of the White House.
What: Rolling billboard and White House vigil asking President Trump to pardon the innocents (turkeys)
When: Monday, November 20th - Wednesday, November 22nd, 11am - 4pm
Where: In front of the White House and throughout downtown DC
Why: To call attention to the gratuitous violence perpetrated against turkeys during the Thanksgiving season.
Narrative:
On Wednesday, President Trump plans to use his pardon pen on two very innocent Minnesota turkeys. The 244 million turkeys killed in the U.S. this year have not been so lucky. They are raised in crowded sheds filled with toxic fumes. Their beaks and toes are clipped to prevent stress-induced aggression. At 16 weeks of age, slaughterhouse workers cut their throats and dump them into boiling water to remove their feathers.
Consumers pay a heavy price too. Turkey flesh is laced with cholesterol and saturated fats that elevate the risk of chronic killer diseases. Intense prolonged cooking is required to destroy deadly pathogens lurking inside.
Now, for the good news. Per capita consumption of turkeys is down by a whopping 34% from a 1996 high of 303 million, as one third of our population is actively reducing meat consumption. Our supermarkets carry a rich variety of convenient, delicious, healthful plant-based meat products, including several oven-ready roasts.
FARM (Farm Animal Rights Movement) calls on all Americans to skip the gratuitous violence at this Thanksgiving and grant our own pardon to an innocent animal.
The Farm Animal Rights Movement (FARM) is a national animal protection organization based in the nation's capital.
Contact: Eric Lindstrom, 607-227-4014