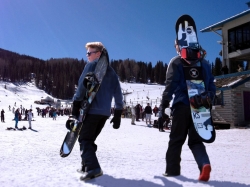 Valley Forge, PA, November 22, 2017 --(
PR.com
)-- Board Bootie LLC, the creator of a lightweight snowboard protector and snowboard backpack, launches its online store at https://www.boardbootie.net. Board Bootie was developed to protect a rider's investment in a snowboard and to provide a more convenient way to transport a board to the slopes.
"Board Bootie is one of the more unique and useful products to cross my desk in a while," says Joe Palaia who is the Lead Buyer/Sales Manager at Buckman's Retail, Burton in King of Prussia, and Buckmans.com. "It's a clever and convenient way to protect a snowboard and a car from scratches and dings while in transit. It's also a very cool backpack concept for carrying a board to the mountain or while hiking the peak. Riders of all skill levels will appreciate the value of owning a Board Bootie."
This collapsible snowboard carrier and protective snowboard cover is a first in the industry. For over a year, Board Bootie, LLC has been working with a manufacturer to perfect the product to make it distinct yet supremely functional. It was the founder's vision to apply an Apple-like simplicity to its design. As such, it only includes what is absolutely necessary to provide protection for a snowboard and a car while traveling, and to be able to transport a board hands-free, all while weighing only 12 ounces. It will also:
· Help keep edges sharp and wax job fresh
· Collect water from draining into a car or home
· Protect hands and gloves from cuts
· Collapse compactly enough to put in a jacket pocket
· Fit snuggly on your board
· Apply and remove in seconds
About Board Bootie, LLC: Board Bootie, LLC is a board sports equipment accessory company which designs, produces and sells lightweight covers for protecting and transporting snowboards and wakeboards. The company was founded in 2016 and is headquartered in Valley Forge, PA. The product has been approved for a utility patent. For more information, and to see Board Bootie in action, visit their website at https://www.boardbootie.net.
Board Bootie … some things just shouldn't be naked.