Rack Up Some Good Karma by Joining Beekwee on #GivingTuesday; Give, Get Back and Only Pay Shipping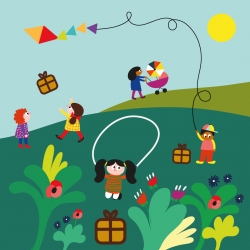 San Francisco, CA, November 27, 2017 --(
PR.com
)-- Beekwee is a community-driven donation marketplace for parents in the United States. The platform allows families to donate and receive easily shippable baby, child, and maternity products, so they can keep up with their baby's growth spurts without breaking the bank.
Beekwee was created to solve issues every parent faces when cluttered with boxes full of usable items that their children have outgrown or never used. Even though they would prefer that their baby's adorable clothes and toys find a new home rather than end up in a landfill or thrift store, selling them or passing them along can be a hassle. On the other hand, there's a growing number of families who may be looking for ways to reduce their environmental impact and pursue a sustainable lifestyle or simply can't afford to purchase brand-new products.
A bundle of joy can cost a bundle, too. The anxiety of being a good parent coupled with sleep deprivation makes first-time parents emotionally vulnerable to misleading advertising. As a result, they amass countless "baby must-haves" that often go unused. It is estimated that American parents spend an average of $12,000 on their babies in the first year alone. As the age of parents increases, so does their budget, and the baby products industry continues to grow by feeding on those parents' fears and insecurities.
Beekwee was created to tackle each of these problems head-on. It's a smarter alternative for parents to find children's items, clean out their closets, and help other families through the power of community. To save on shipping, Beekwee uses USPS flat rate boxes to send items easily and inexpensively anywhere throughout the United States. Interested parents can sign up at
https://www.beekwee.com
.
About Beekwee
Beekwee Inc. was founded in 2017 by Beata Adamczyk and Patrick Guderski. Adamczyk is a former diplomat and a first-time mother who is passionate about the sharing economy, sustainability, and impact investing. Guderski has more than 10 years of experience in software design in the public and private sector across borders, cultures, and spoken languages. Beekwee is designed to change the way parents shop for baby, kids, and maternity products.
Patrick Guderski
Beekwee Inc.
Phone: (916) 910 3368
Email: patrick@beekwee.com
Contact
Beekwee
Patrick Guderski
(916) 910 3368
https://www.beekwee.com
hello@beekwee.com

Contact