"Miracle Children: Behavior and Learning Disabilities Uprooted" a Hope-Filled Resource
"Miracle Children is a book that tens of thousands of parents throughout the Western world have been waiting for, because it proves that their dreams and hopes as parents can become reality." Dr. Peter Blythe, founder of the Institute for Neuro-Physiological Psychology (INPP), Chester, U.K.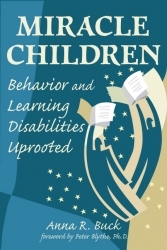 Broomfield, CO, March 01, 2008 --(
PR.com
)-- Parents of children struggling academically or behaviorally will glean encouragement and insight from Miracle Children: Behavior and Learning Difficulties Uprooted by Anna Buck, founder of Colorado-based Anna's House LLC.
Buck adopts a tone akin to neither textbook nor testimonial in Miracle Children. Aimed at an audience of concerned parents seeking answers, the book maintains its informative focus on Neuro-Developmental Delay therapy without losing the reader in a sea of overly technical language. Buck approaches her topic by first sharing her own and her daughter's story of struggle and discovery and then relaying the stories of various children she has impacted through her work as a certified Neuro-Developmental Delay (NDD) therapist and Listening Fitness instructor.
"The stories all demonstrate varying manifestations of NDD," Buck says. "While each of the children revealed different struggles in varying levels of severity, each one tested as having neurological dysfunction beginning with the brain stem. Some children struggled with sensory, body-movement or academic difficulties. Others seemed to struggle only with behavior, and still others struggled in every area. Labels and diagnoses differed, yet the underlying problem in each case was dysfunction of the central nervous system, beginning with the brain stem."
The stories within Miracle Children are personal ones that perhaps say best what the therapies Buck uses daily at Anna's House have meant. The book is filled with the real-life experiences of frustrated parents and children weary of coping techniques and longing for lasting solutions that get at the underlying roots of the problems they face.
"What an enormous relief it was to learn that there were both reasons for and solutions to my daughter's problems," says Pat Hale, whose daughter recently completed therapy at Anna's House. "Readers will be thrilled to see the possibilities for improvement in their child's situation."
The hope Buck aims to give those parents in her book is dear to her own heart.
"I found myself teary-eyed and emotional in writing this book," she says. "I relived many memories, heartaches and struggles. I am so incredibly grateful for the answers my own daughter and I have found, and it is a joy to share those answers with other families."
Miracle Children, which will be available for $21.95 at www.annashousellc.com, makes difficult concepts approachable for parents and teachers, says Paul Madaule, director of The Listening Centre in Toronto, Ontario.
"This is not easy to do," Madaule says, "and Anna has done it very well in Miracle Children."
For more information, contact:
Anna Buck
Anna's House LLC
Certified Neuro-Developmental Delay Therapist (INPP)
Certified Listening Fitness Instructor
Academics Specialist
www.annashousellc.com
###
Contact
Anna's House, LLC
Anna R Buck
303-547-5558
www.annashousellc.com

Contact