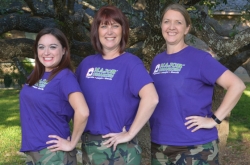 San Antonio, TX, November 29, 2017 --(
PR.com
)-- The Veteran community is increasing order in San Antonio household thanks to Melissa Smith, former Navy Military spouse, as she opens a Major Organizers® franchise in San Antonio, Texas. Mrs. Smith's husband served the United States Navy for six years. After years of listening to friends and colleagues suggest she become a professional organizer, she found her calling when she learned of an opportunity with Major Organizers®.
"This is my passion. I've always been organized, and love helping others get organized too," said Melissa Smith. "My career has always been in service to others; retail, hospitality, and HR. When I found Major Organizers, I realized I could combine my passion and my experience. Having worked for some recognizable corporate brands, I understood the power behind branding, and I connected with Major Organizers on this level and to its vision and values. It's not just about getting someone organized; it's about changing their lives. Major Organizers does mighty and rewarding work. The fact Major Organizers is also a veteran owned company, well this is the icing on the cake. My husband served in the Navy, as did my grandfather. I look forward to serving the veteran community and grow my team with MIL spouses or vets. I am happy to join Angela Cody-Rouget and Major Organizers on this journey to grow the brand and restore order to the world, one household at a time!"
Smith decided to pursue owning a Major Organizers® franchise business, seeking to control her destiny as a professional organizer. "It is an honor to have other veterans and military spouses join forces with me to raise an army of Liberators to restore order to households across America," said CEO Angela Cody-Rouget.
Ms. Smith looks forward to expanding her Major Organizers® team in San Antonio. She is proud to be a Veteran-owned business and will continue to support veterans through volunteering, donating, and offering discounts to veterans; as well as, police officers and firefighters.
To learn more about opportunities in Texas, please visit www.MajorOrganizers.com/SanAntonio
About Major Organizers®
Since 2006, Angela Cody-Rouget, AKA "Major Mom" has employed "Liberators" throughout the United States.
Cody-Rouget continues to expand Major Organizers® through franchising to serve the organization's mission of restoring order to the world. Major Organizers®, a veteran-owned company, is building a national brand with operations in Colorado, Arizona, Texas, Ohio, Oklahoma, Florida, Illinois, and now, Montgomery, Alabama. Cody-Rouget declared her goal for the company is to create 500 jobs for women and veterans as well as help military spouses and veterans become business owners.
The Major Organizers® team is comprised of professional organizers who are highly skilled and well trained at de-cluttering and setting up customized, achievable and sustainable systems in various types of households.
Major Organizers® is on a mission to raise up an army of liberators to restore order to the world, one household at a time. "Major Organizers® has a mission to be the most recognized and respected organizing firm nationally and internationally by creating rewarding careers and beautiful yet functional home and office environments for moms and their families," stated Major Organizers® CEO, Angela Cody-Rouget.
The founder and CEO of Major Organizers®, Angela Cody-Rouget, walks her talk. She has two decades of training in order management. She served in the U.S. Air Force for 14 years (10 years active duty, four years in the reserves; as well as four years in AFROTC) and she embraces and thrives in orderly environments.
In 2018, Major Organizers® plans to open additional locations in Boulder and Ft. Collins, Colorado; Houston and Dallas, Texas; Tampa, FL; Las Vegas, NV, and Atlanta, GA.
Learn more about Major Organizers® at www.MajorOrganizers.com.