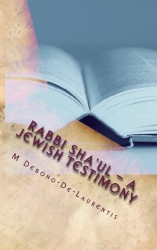 Edinburgh, United Kingdom, December 05, 2017 --(
PR.com
)-- Meticulously researched and written by Max Debono-De-Laurentis, "Rabbi Sha'ul – A Jewish Testimony" takes readers back thousands of years, to days predating the New Testament, to discover exactly how he lived and remained as a Jew.
"It's one of the only books to take such a compelling look at the Judaic Context of St. Paul, making it an invaluable resource for both scholars and lay believers." -D Kauffman BA
While it may seem unusual to today's modern, Anno Domini world, the original St. Paul was a Jew and needs to be understood in a Judaic context. In his powerful and game-changing new book, Max Debono-De-Laurentis takes readers back to those times, to experience how Rabbi Sha'ul or St Paul lived. Written in story format, this easy to understand and read book brings you into his life as if he was talking to you.
Understanding Sha'ul the Rabbi' is both eye-opening and engrossing, making an extremely valuable contribution to theologian history.
About the Author:
Though born in England, the author was brought up in Brooklyn NY within the Jewish community as his step-father was Jewish. After moving back to the UK at the age of thirteen, his interests became more esoteric as he grew until eventually he became a Satanist. At the age of twenty-five he was miraculously saved by the Messiah Yeshua (Jesus) and as a result took to heart the scripture he was given at the time: 2 Timothy 2:15, Study to show yourself approved, a workman rightly interpreting the word of truth. After going to an Elim Bible College he spent years in ministries, for the most part reaching out to the Jewish people. CMJ – Churches Mission to the Jewish People, MT Messianic Testimony, Emmaus Roadshow and recently through his own website and online ministry MDDL Discernment and Study Ministry - www.maxddl.org. He has now completed his Bachelors and Masters Degrees through MBI Yeshiva, which has sadly closed down now, and has recently received a Doctor of Arts in Jewish Studies and is pursuing a PhD.
Can Be Purchased from Amazon here: https://www.amazon.com/Rabbi-Shaul-Testimony-Debono-Laurentis/dp/1478208589/ref=sr_1_1?ie=UTF8&qid=1510829761&sr=8-1&keywords=rabbi+Shaul+a+jewish+testimony