Dustin Rose Releases His Newest Album, "Catch The Wind"
Dustin Rose releases his first Christian album, "Catch The Wind," with Portland-Based BentBeat Productions - available on Amazon.com, iTunes, Spotify, and all major music sites.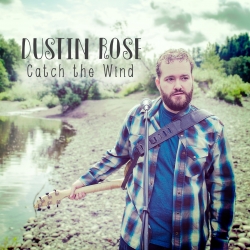 Portland, OR, December 05, 2017 --(
PR.com
)-- Northwest-based Dustin Rose releases his third solo album, "Catch The Wind." Rose is a Portland native and a 6th generation Oregonian who has been performing live for over 20 years, most recently with the band Wilson Fifer Rose.
"Catch The Wind" features local and national musicians and two featured guest singers. "Holy Is My God" features Amber Schroeder, the Director of Choral Music at Sam Barlow High School in Gresham, and Dustin's wife Andrea is featured as a duet singer for the song "My Father's House." The song being co-written by the Roses for a nonprofit that shares the same name in Gresham.
"My Father's House, A Community Shelter" is the largest privately funded homeless shelter program in the nation with an 85% success rate helping people secure stable employment and housing upon exit from the program. Dustin and Andrea have been involved with the shelter in various capacities for over 17 years. "We composed the song because we wanted to convey to everyone how important the community shelter was to us," said Andrea. "Residents of the shelter take classes in renter education, financial management, and other life skills. There are up to 30 homeless families at a time taking part in their program. We hope that the song will encourage others to join us in supporting their ministry to Multnomah County's homeless population."
This is Dustin Rose's first collaboration under the Portland-based BentBeat Productions label. Produced by Jozi Bently and Dave Beatty, Rose found great freedom in the partnership. "Jozi and Dave were easy to work with. I was able to come to creative sessions with ideas and partial songs and somewhere along the way it turned into a full-length album. I was very pleased with how everything turned out."
"The best way to have great music is to start with a great artist. We heard Dustin sing and were hooked," said Bently. "It's great to have an entire album featuring both an artist's playing and singing talents."
Rose recently took the stage at Creation Northwest in Tri-Cities, Washington, to promote his upcoming project. "It was exciting to get to play some of these new songs for such an enthusiastic crowd," said Rose. "It was great to see people enjoying themselves and stepping away from their daily lives, and I was glad to be a facilitator for that."
The CD release party for "Catch The Wind" will be on Friday, December 8th, from 5:30-7pm at Clinton St. Bible Chapel, 18255 SE Clinton St, Gresham, Oregon 97030. A portion of the evening's album sales will go to benefit "My Father's House." All ages free.
Dustin is a sponsored artist of Breedlove Guitars in Bend, Oregon.
About BentBeat Productions: BentBeat is based in Portland, Oregon. BBP's focus is on partnering with musicians to produce, record, and release high quality broadcast-level music through streaming services, social media and traditional distribution. BentBeat's portfolio is available on Amazon.com, iTunes, Spotify, and all major music sites. Please join in supporting musicians.
Contact
BentBeat Productions
Dave Beatty
503.489.8275
www.bentbeat.com

Contact