Podcaster Awarded Top Fundraiser by South Oakland Shelter
Eric Fadie of The Detroit Cast was awarded the top fundraiser at the "Dancing with the Detroit Stars" Event Held to Benefit the South Oakland Shelter.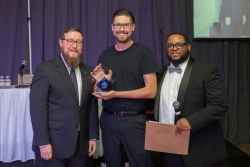 Franklin, MI, December 04, 2017 --(
PR.com
)-- On November 18, 2017, the South Oakland Shelter (SOS) held the "Dancing with the Detroit Stars" at the Townsend Hotel in Birmingham, Michigan. While the event featured a friendly competition among some of Detroit's noteworthy personalities, it also served as a celebration for a successful fundraising campaign by those who participated. Each dancer was asked to set a goal of raising $5,000 in the lead up to the event. In fact, 4 of the six dancers exceeded that goal and Eric Fadie received top honors by raising nearly $27,000.
While Eric may have seemed an odd choice to some for participating in the event, he had proven his fundraising prowess earlier in the year by raising over $30,000 in a four-day telethon where he camped outside the podcast studio in a tent and live streamed himself. "While I did one small part to raise these funds, it was truly the fans of our podcast that donated more than $50,000 in total this year to SOS," said Fadie when asked about his thoughts on his efforts this year.
"We didn't really know what to expect," said Mike Wolters, Host of The Detroit Cast, and CEO of Radio for One Studios. "We have been doing our own thing for a few years now, and we wanted to find a way to give back to the community who has given us so much. We carefully researched local charities that serve people near us. We felt that South Oakland Shelter was an excellent choice in terms of its mission, and how it manages itself. The listeners of our show really surprised us with their interest in our two different campaigns and their substantial support."
Special thanks is owed to Mike Lindell of MyPillow. He appeared in an interview on the podcast earlier this year, and the hosts were particularly affected by his genuine stories. Before they ended the interview, they told him about the fundraiser, and asked if he might be inclined to help. He quickly responded, "You tell me what you need, and we'll triple it and call it a day. How's that sound?" The MyPillow company contributed $10,000 to the campaign, and also a sizeable delivery of pillows to help with SOS' efforts in housing the homeless.
One of the people who was initially skeptical, but quickly became a fan of The Detroit Cast, and Eric Fadie was Ryan Hertz, President & CEO of South Oakland Shelter. "I had never heard of The Detroit Cast before this year, and didn't really know what to expect when they came to us with this idea of a telethon to support our efforts," Ryan said when asked about Eric and the team.
He continued, "Between the earlier campaign, and their efforts with the Dancing with the Detroit Stars event, Eric and The Detroit Cast folks have raised more than $50,000 this year to assist homeless families in our community. To put their impact in context, this is more than our shelter's annual allocation from FEMA, and is enough to provide nearly 5,000 nights of emergency shelter for our clients. We are very grateful."
The Detroit Cast, produced by Radio for One Studios
The Detroit Cast is a Internet-based talk show recorded 5-days per week, and a seven-time Podcast Award nominee. The show is distributed to the most popular podcast outlets. The Detroit Cast originated with Mike Wolters, former producer on the Drew & Mike show which aired in Detroit for over 20 years. The Detroit Cast has been active for almost four years, and will soon celebrate its 1,000th episode. Mike is joined on the show by his lifelong friend and co-host, Jay, and former Drew & Mike intern, Eric Fadie. The three of them discuss the day's news and interesting stories free of the confines of terrestrial radio. The show is uncensored, and marked as "Mature," but their humor if often anything but, and thousands listen each day.
About South Oakland Shelter (SOS)
Serving our community for over 30 years, SOS has evolved into a local homeless service expert. SOS's focus on housing as the primary solution to homelessness has strengthened our impact throughout our region. SOS implements housing-first programming, operates a rotating shelter, and provides various supportive services that move people from homelessness to long-term stability. Learn more at www.southoaklandshelter.org.
Contact:
Craig Backus
Marketing Director
DRKM Strategies
817.600.5701
craig@drkmstrategies.com
http://detroitcast.com
Contact
Radio For One Studios, LLC
Craig Backus
817-600-5701
detroitcast.com
Photo caption: Ryan Hertz, Eric Fadie, Omari Taylor - Photo by: Jerry Richart

Contact